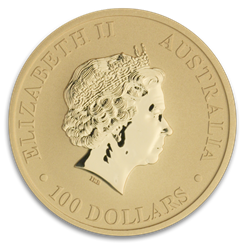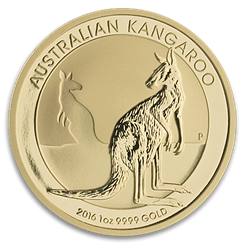 | | |
| --- | --- |
| Content: 1 toz | Fineness: 24 karats |
| Weight: 1 toz | Diameter: 32.1mm |
A True Rarity in Bullion Coins
Composed of an impressive 99.99% percent fine gold, the Australian Gold Kangaroo is unrivaled for its purity and design. Each mintage of the Kangaroo is a limited edition with its design changing annually, making it a secure investment with collectible qualities.
Government-Guaranteed Purity
The Kangaroo is struck by the Perth Mint in Western Australia and is official Australian legal tender. Its fine gold purity is government guaranteed.
Difference You Can See
The Australian Kangaroo was originally called the Australian Gold Nugget, due to its high gold content that produces a uniquely deep and rich color.
Prices Shown Subject to Change
The pricing quoted on this page is based on the current market price for this precious metal, which constantly fluctuates and we continuously update from 7 a.m. – 5 p.m. CT, Monday through Friday.
Online Orders
You will be charged the price listed at the time you place your order. This price will be guaranteed once we contact you to lock your order and issue a confirmation number. To protect against the rare event of abnormally volatile market conditions, we reserve the right to deny pricing quoted on this website.
Phone Orders
You will be charged the market price at the time you lock in your order with us.