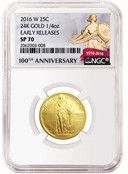 | | |
| --- | --- |
| Content: .25 toz | Fineness: 24 karats |
| Weight: .2727 toz | Diameter: 22mm |
Commemorating the centennial anniversary of the 1916 Standing Liberty Quarter!
The first gold quarter from the United States Mint, and second in a 3-coin series commemorating the 1916 Mercury Dime, Standing Liberty Quarter, and Walking Liberty Half Dollar!
Part of the 1916 renaissance in American coinage the Standing Liberty Quarter was designed by Hermon MacNeil and issued as a replacement for the Barber design that had been unpopular with the public.
These gold commemoratives are the first and only Standing Liberty Quarters struck at the West Point Mint and the second lowest mintage of any Standing Liberty Quarter ever!
Unlike the original issues, which were composed of 90% silver and 10% copper, each these beautiful commemoratives has been struck in ¼ oz. of lustrous 24k gold!
Prices Shown Subject to Change
The pricing quoted on this page is based on the current market price for this precious metal, which constantly fluctuates and we continuously update from 7 a.m. – 5 p.m. CT, Monday through Friday.
Online Orders
You will be charged the price listed at the time you place your order. This price will be guaranteed once we contact you to lock your order and issue a confirmation number. To protect against the rare event of abnormally volatile market conditions, we reserve the right to deny pricing quoted on this website.
Phone Orders
You will be charged the market price at the time you lock in your order with us.