1806 Draped Bust Half Dollar Pointed 6 NGC AU55
Price
Call for price --

1-800-880-4653


.
Blanchard prides itself on sourcing the highest quality numismatics available anywhere. If there is a coin that you are searching for, contact us today. Learn more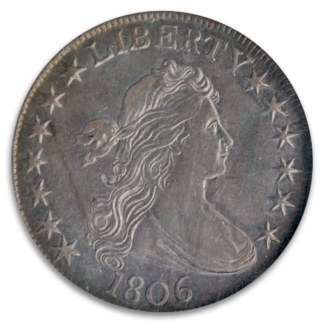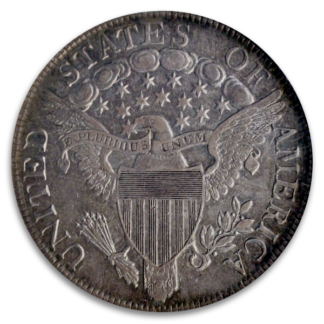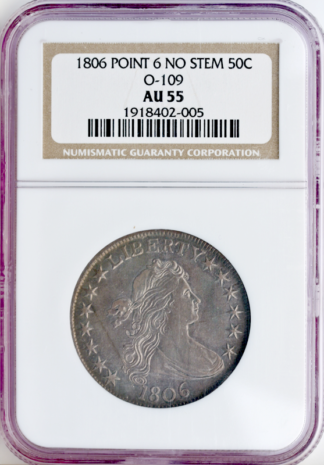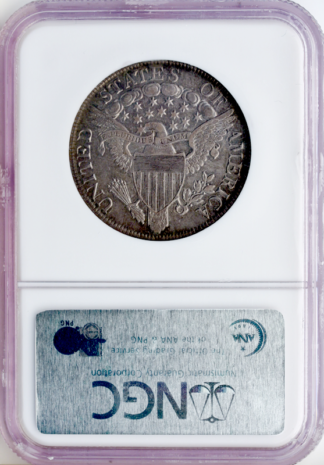 The obverse of this version of the Draped Bust Half Dollar is much like its predecessor, with just some very minor modifications to the portrait. The obverses of all Heraldic Eagle Half Dollars have 13 stars, unlike previous types whose star counts changed with the then-current number of states in the Union. The Heraldic Eagle reverse is totally different from the previous version and was based on the Great Seal of the United States. The eagle is larger and more formal and is depicted with a Union shield on its chest and its wings spread. In its beak, the eagle holds a ribbon incused with E PLURIBUS UNUM. UNITED STATES OF AMERICA surround the central devices, and the denomination has been removed from the face of the coin, again being located only on the edge. Clouds arc from wingtip to wingtip with 13 stars below the clouds. The eagle holds arrows in its right claw and an olive branch in its left claw. The position of the arrows on the reverse is somewhat controversial. In heraldry the right claw is dominant. On the Great Seal of the United States, the eagle's dexter (right) claw holds the olive branch signifying the nation's desire for peace. On this coin, however, the dexter claw is holding the arrows of war. It is not known whether this was a major blunder or some intentional, personal militaristic statement by the Mint Engraver.
The Heraldic Eagle Type ushered in an era of very large mintages, with over 1.5 million minted over 7 years. Mint-state examples are few and far between, as few were saved in those days, the coins receiving heavy usage by the public. In addition, 50 cents represented a full day's pay for many working Americans in this era, so saving them was not a consideration.
The passion with which this coin is collected rivals that of the large cent. Collectors are attracted to this series due to the large number of varieties to collect and study.