1861 $20 Liberty SS REPUBLIC NGC MS61


.
Blanchard prides itself on sourcing the highest quality numismatics available anywhere. If there is a coin that you are searching for, contact us today. Learn more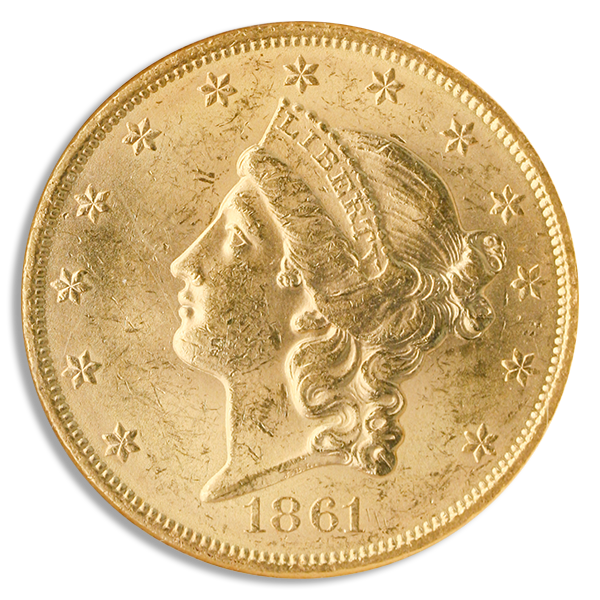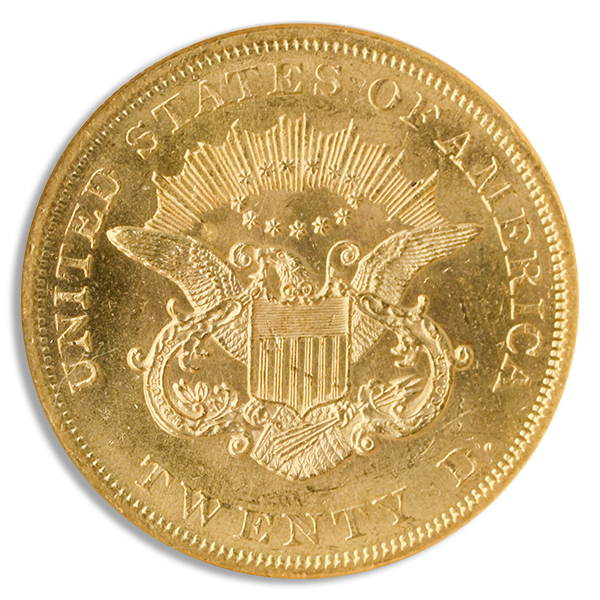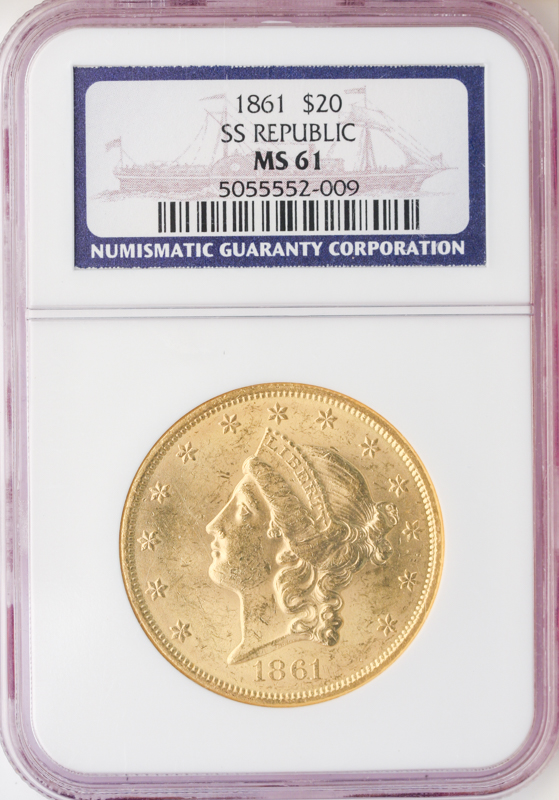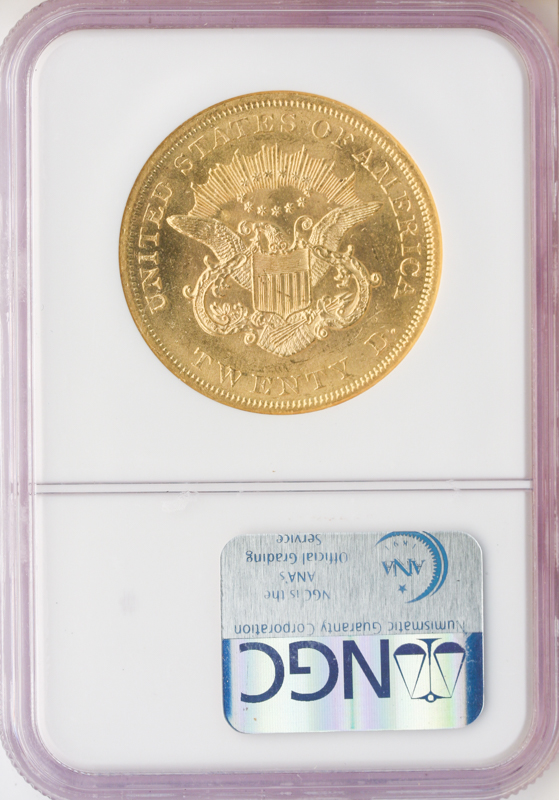 The obverse of this coin displays an image of Liberty facing left, encircled by 13 stars, with her hair flowing gracefully over her shoulder. The coronet (or crown) atop her head bears the word "LIBERTY" in raised relief, and the date is positioned at the lower part of the design. The portrait of Liberty is an adaptation inspired by a Greco-Roman statue that greatly impressed the designer, James Longacre. On the reverse side, we see an eagle with its wings outstretched, carrying a Union shield on its chest. In its right talon, the eagle clutches an olive branch, while its left talon firmly holds a bundle of arrows. Above the eagle's head, there's an oval arrangement of 13 stars along with a radiating pattern. The denomination is located at the bottom, expressed as "TWENTY D." The presence of double scrolls flanking the shield represents Longacre's nod to the double eagle denomination. The left scroll features the relief inscription "E PLURIBUS," while the right scroll displays "UNUM," also in relief. Type 1 Liberty Head Double Eagles were minted annually from 1850 to 1866, and this series is abundant with rare specimens. Mint-state examples are consistently scarce, with most falling into the rare category, and quite a few reaching the status of being exceptionally rare. Branch Mint issues, in particular, are quite rare, with New Orleans releases ranking among the scarcest within the series. Interestingly, a significant portion of the 1861 New Orleans issue was produced during the Confederate era. Unfortunately, it's impossible to distinguish between coins struck by the United States and those struck by the Confederate States. According to Breen, approximately 71% of the total mintage was produced under Confederate authority, suggesting that any collector holding an 1861-O specimen likely possesses a coin struck while the Confederate flag was flying over the Mint. The 1861 Paquet Reverse issue has achieved legendary status. In that year, Mint Engraver Anthony Paquet made modifications to the reverse design, notably altering the lettering and the rim. Paquet's version featured more elongated and slender letters and a considerably narrower border compared to Longacre's original design. Although artistically appealing, it quickly became evident that these changes were impractical, as the narrow rim failed to protect the design from wear, and the altered design resulted in premature die breakage. The Mint Director promptly ordered the reinstatement of the old reverse and, via telegram, instructed the San Francisco Mint to discontinue the use of the new design. Only two Paquet Reverse specimens from the Philadelphia Mint are known to exist, while San Francisco Mint coins, with a mintage of 19,250 before cessation, occasionally become available. They are highly sought after and carry a premium value beyond what their mintage figures might suggest.