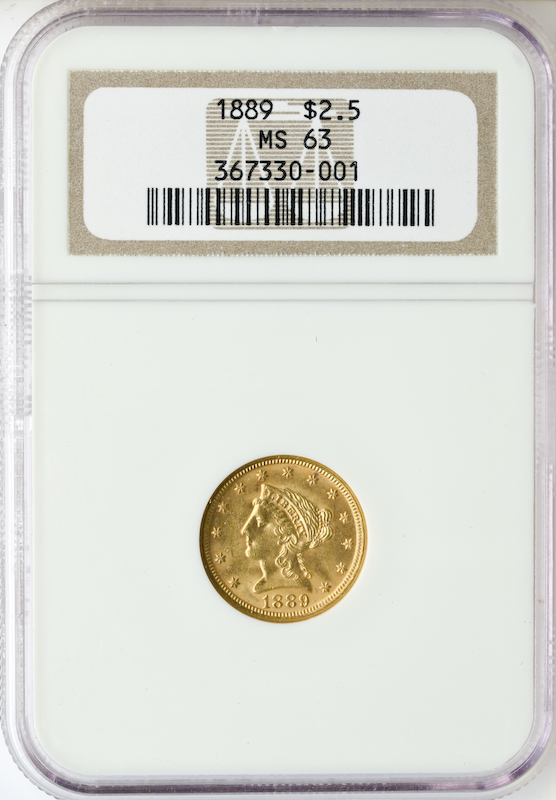 The Classic Head Type was a stopgap measure meant to put gold coins back into circulation. It was a tremendous success, but was never intended to be a long-term design. The Mint wanted a symbol of Liberty befitting a growing, prosperous nation, and a rehash of the 1808 Large Cent simply would not suffice. Christian Gobrecht had created a new design for the gold eagle in 1838. That design was well received by all and was adapted to the half eagle in 1839 and then the quarter eagle in 1840. It was felt the design would stand the test of time and also bring uniformity to all three circulating gold coin denominations.
The rarest Liberty Head Quarter Eagles are usually the pre-Civil War, low mintage pieces from the southern Mints, Charlotte and Dahlonega. Other major rarities are those from Philadelphia minted between 1863 and 1877. Coins minted in 1873 are an exception, as mintages in 1873 were abnormally large. Perhaps the most famous is the 1848 CAL issue. In 1848 the Military Governor of California sent the Mint 230 ounces of California gold. From this the Mint produced 1,389 quarter eagles with CAL . struck just above the eagle's head. Numismatists consider this America's first commemorative coin. All 1848 CAL Quarter Eagles are expensive and eagerly sought.
Prices Shown Subject to Change
The pricing quoted on this page is based on the current market price for this precious metal, which constantly fluctuates and we continuously update from 7 a.m. – 5 p.m. CT, Monday through Friday.
Online Orders
You will be charged the price listed at the time you place your order and it is confirmed as paid. If your order was not confirmed as paid, it may need to be reviewed by our fraud team and your price will not be locked in until you speak with a Blanchard account representative.
To protect against the rare event of abnormally volatile market conditions, we reserve the right to deny pricing quoted on this website.
Phone Orders
You will be charged the market price at the time you lock in your order with us.