1895 Morgan $1 NGC PR67 CAC


.
Blanchard prides itself on sourcing the highest quality numismatics available anywhere. If there is a coin that you are searching for, contact us today. Learn more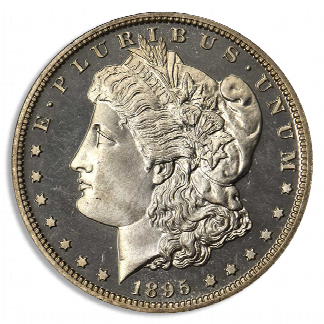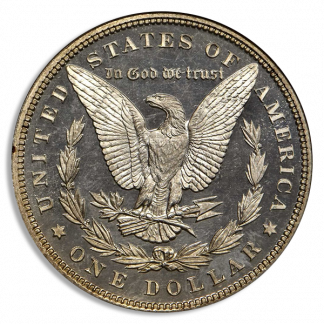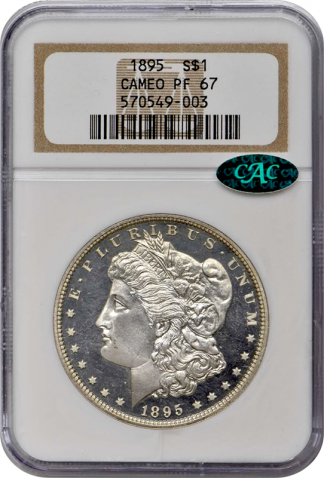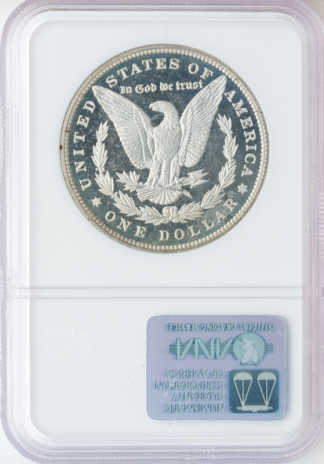 The Morgan Dollar is an odd duck, but beloved among collectors. It is large — nearly palm-sized — and heavy. Perhaps it was made so large simply because there was so much silver floating around at the time! The Comstock silver lode in Nevada yielded a million dollars' worth of silver a week. This sheer quantity created a problem: if a market for all that silver was not generated, Nevada's economy could collapse. In the great American political tradition, lobbyists sprang into action. They persuaded the government to require the U.S. Treasury to buy $2-$4 million of silver every month and turn it into silver coin. George T. Morgan, an engraver at the Mint, designed the new silver dollar. The obverse featured Lady Liberty's head, and the reverse featured an eagle. He chose to depict Liberty as an American woman, rather than the typical Greek-style figures, and he looked to nature studies of the bald eagle to aid him in creating a new eagle design. America's silver dollar coinage got a facelift that had long been desired The Morgan Dollar was minted from 1878 to 1904 and again in 1921. The second-rarest year is 1894, because very few were released into circulation. And among Morgan Dollars minted at the Philadelphia Mint, Mint State 1894s are second rarest as well.
A LITTLE STICKER MAKES A BIG DIFFERENCE.
Within each number of the coin grading scale is a small range of condition from low-end to high-end. Certified coins of the same grade can be of varying quality. Many of today's collectors want coins that are solid or premium quality for their assigned grade. CAC holds coins to a higher standard so you can be confident in the value of yours. We verify previously graded coins … and award our sticker only to those coins that meet the standard for today's selective buyer.
WHAT THE CAC STICKER MEANS:
Verified. Your coin has been verified as meeting the standard for strict quality within its grade.
Guaranteed. CAC stands behind our verification by making markets in most actively traded coins.
THE CAC STICKER IS BACKED BY EXPERIENCE.
CAC was founded by leading members of the numismatic community, including John Albanese, a respected authority on coin grading and the rare coin market.