2021(S) 1 oz American Silver Eagle MS70 Emergency Release PCGS (Types Vary)


In stock, ships in 30+ days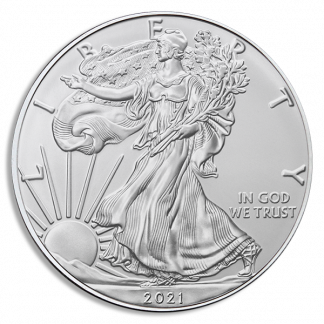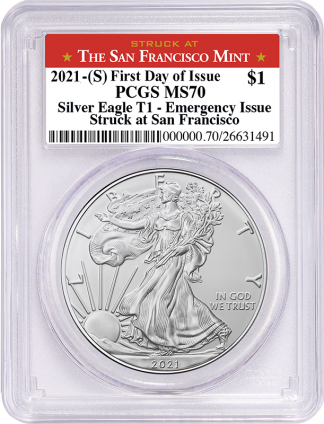 In 2020, the COVID-19 pandemic wreaked havoc on virtually every industry and the precious metals market was no different. Demand for American Silver Eagles exploded. However, the West Point Mint, which typically produces most all Silver Eagles was forced to shut down in order to mitigate the spread of the coronavirus, production was severely impacted.
In order to facilitate the mintage of additional American Silver Eagles, both the San Francisco and Philadelphia Mints produced a limited run of these coins, the most widely collected silver bullion in the world. These are slabbed, with the label indicating 'FIRST DAY OF ISSUE' and 'EMERGENCY ISSUE STRUCK AT SAN FRANCISCO' or 'EMERGENCY ISSUE STRUCK AT PHILADELPHIA'.
The design of these American Silver Eagles is no different than previous issues and the reverse represents one of the last times we'll see the design created by John Mercanti. The year 2021 will see the newest reverse design enter the market.
Demand for American Silver Eagles remains exceptionally strong and only a limited mintage of this coin is available.