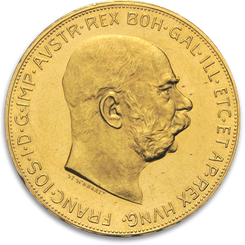 | | |
| --- | --- |
| Content: .9802 toz | Fineness: 21.6 karats |
| Weight: 1.0891 toz | Diameter: 37mm |
An Exceptional Value Per Ounce
When Americans were granted the right to own gold again in 1974, one of the few gold bullion coins available for purchase was the 100 Corona. The market is now crowded with beautiful bullion designs, but this handsome coin endures as one of the best values per ounce, making it an excellent choice for serious investors.
Unique Size, High Liquidity
Each 100 Corona weighs just under an ounce at 0.9802 grams, which is a nonstandard size among today's predominant 1-oz. bullion coins. As a result, this coin generally costs less than comparable one-ounce coins, giving you more gold for your money. It is also widely recognized and easy to liquidate, and the low premium paid at purchase is easier to recover, making the 100 Corona an attractive short-term investment.
Prices Shown Subject to Change
The pricing quoted on this page is based on the current market price for this precious metal, which constantly fluctuates and we continuously update from 7 a.m. – 5 p.m. CT, Monday through Friday.
Online Orders
You will be charged the price listed at the time you place your order. This price will be guaranteed once we contact you to lock your order and issue a confirmation number. To protect against the rare event of abnormally volatile market conditions, we reserve the right to deny pricing quoted on this website.
Phone Orders
You will be charged the market price at the time you lock in your order with us.