The Premier Choice For Precious Metals Investing
The Largest, Most Respected Gold Investment Firm of its Kind
Blanchard is a family-owned U.S. gold firm with broad reach and deep roots in the precious metals market. We live by our name, which is known nationwide for honesty and integrity.
A superior tangible-assets portfolio is an ancient, proven strategy for protecting and enhancing wealth. For almost 50 years, we have helped clients invest in American numismatic rarities and investment grade silver, gold, platinum and palladium bullion.
It is our honor to help serious investors and collectors employ this strategy in the service of their financial goals.
What We Offer
Our history gives us unparalleled expertise in helping investors build solid portfolios. We take the time necessary to deeply understand your investment objectives, investment time horizon, and risk appetite before recommending products for your consideration.
Speaking with one of our portfolio managers before you invest can dramatically improve your purchasing power and help you avoid an unprofitable purchase. We can also help you on topics such as IRAs, inheritance, silver and gold storage, diversification, and other factors affecting the metals markets.
Our team delivers:
Custom Research. The best numismatist in the country personally purchases every coin that we sell, while rejecting over 75% of those offered to us. If there is a particular coin or set that you are trying to build, our numismatists can help source your coins from collections around the world.
Safety and Security. We ship registered and insured by default, because it is the safest method to guarantee a successful delivery.
Competitive Prices. If you find a cheaper price on the Internet, please let us know and we will aspire to match or beat that price. Your return on investment begins with getting the best deal possible from the start.
Commitment. We offer a 100% buyback guarantee to purchase your investment back at any time at the then current value.
Relationships. We are here for our clients throughout their lifetimes. A dedicated portfolio manager works with every client in order to help them achieve enduring financial success—and sometimes build lifelong relationships.
Our History
Our founder, Jim Blanchard, helped pave the way for the millions of Americans today who leverage precious metals and rare coins to enhance and protect their wealth.
Jim Blanchard spearheaded a nationwide, grassroots movement to legalize gold ownership, driven by his passionate belief that gold ownership is a core right and a key to individual prosperity. His colorful marketing campaigns became the stuff of legend. Blanchard arranged for a biplane with a "Legalize Gold" banner to fly over President Nixon's second inauguration, and he held press conferences across the U.S., at which he brandished gold bars and dared authorities to arrest him.
In 1975, one year after President Ford legalized the private ownership of gold, Blanchard opened the gold investment firm Blanchard and Company, Inc. in New Orleans, Louisiana. Today, Blanchard has served more than 600,000 clients. We have transacted over $1 billion in sales in the last three years alone.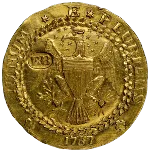 Over 23 years ago, Blanchard partnered with John Albanese—the world's most renowned numismatist—who brought an unmatched level of expertise to Blanchard's coin selection strategies. Shortly after, we placed our first seven-figure coin, the $20 Saint-Gaudens Ultra High Relief. In 2011, Blanchard placed the Brasher Doubloon, the world's most valuable rare coin at the time.