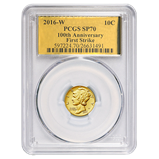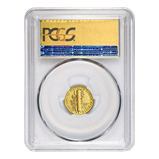 | | |
| --- | --- |
| Content: .1 toz | Fineness: 24 karats |
| Weight: .1091 toz | Diameter: 16.5mm |
Call Now, Quantities are Limited. Designs Vary.
It's a marriage made in heaven for numismatic investors and collectors, and Blanchard and Company has it right now: the brand-new 2016-W gold Mercury Dime Centennial coin, certified by PCGS at a virtually perfect grade of SP70 First Strike.
This must-own commemorative from the U.S. Mint's West Point branch weds Adolph A. Weinman's iconic 100-year-old Winged Liberty Head design with .9999 fine 24-karat gold in a compact 1/10-oz. size.
The Mint issued this gorgeous gold commemorative on the 100th anniversary of the Winged Liberty Head dime's debut, which was produced in 90% silver and 10% copper from April 21, 1916, until 1945, after which it was replaced by the Roosevelt dime.
An exact reproduction of Weinman's classic design, complete with reeded edge, the obverse depicts Liberty wearing a winged cap that symbolizes freedom of thought. Weinman reportedly modeled Liberty after the poet Wallace Stevens' wife, Elsie, but the American public mistook the profile for the Roman god of speed. Hence, the coin became alternately known as the Mercury dime. Inscriptions on the obverse are "Liberty," "In God We Trust," "2016," and the overlapped initials of Adolph A. Weinman.
The reverse features the Roman fasces and olive branch, which symbolize, respectively, the Unites States' military power and its desire for peace. Inscriptions are "United States of America," "E pluribus unum," "Au," "24k," "1/10 oz.," "One dime," and "W," West Point's mintmark.
Of course, the 2016 issue one-ups the Weinman original in one respect: its gold composition. Now you can own this beloved design in pure gold, not "poor man's gold," and in a convenient, affordable size.
With a planned mintage of only 125,000, these beauties are arguably rarer than the original dimes. Each coin is encased in plastic and rests in a black-matte hardwood presentation case, accompanied by a certificate of authenticity.
The gold centennial dime is the first of three reproductions planned this year to honor 1916's groundbreaking numismatic designs. To form an eventual three-piece set, the Mint also is releasing a .9999 fine gold Standing Liberty quarter (1/4 oz.), based on sculptor Hermon MacNeil's original, and a .9999 fine gold Walking Liberty half-dollar (1/2 oz.), reproducing Weinman's design.
Old is new again, and this gold Weinman tribute dime has set the collectibles world on fire with desire, with buyers swamping the Mint's Web site on April 21.
Prices Shown Subject to Change
The pricing quoted on this page is based on the current market price for this precious metal, which constantly fluctuates and we continuously update from 7 a.m. – 5 p.m. CT, Monday through Friday.
Online Orders
You will be charged the price listed at the time you place your order. This price will be guaranteed once we contact you to lock your order and issue a confirmation number. To protect against the rare event of abnormally volatile market conditions, we reserve the right to deny pricing quoted on this website.
Phone Orders
You will be charged the market price at the time you lock in your order with us.