1807 Draped Bust Half Dollar NGC AU53 CAC
Price
Call for price --

1-800-880-4653


.
Blanchard prides itself on sourcing the highest quality numismatics available anywhere. If there is a coin that you are searching for, contact us today. Learn more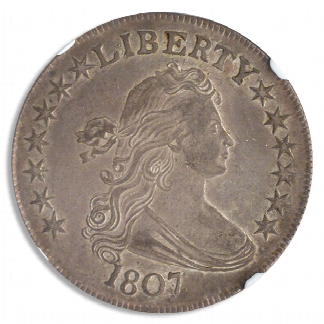 She is a busty beauty with flowing long hair.
This 1807 classic silver half dollar, the Draped Bust, has outstanding eye appeal and a natural heft to hold in your hand.
Congress first authorized the creation of a half dollar in April, 1792. The Draped Bust version was struck from 1796 through 1807.
Collectors have numerous varieties to choose from when selecting half dollars.
These coins were engraved by the very first Chief Engraver of the U.S. Mint – Robert Scot. The obverse features Liberty with long flowing hair facing right. LIBERTY and the date are featured at top and bottom.
The reverse reveals a heraldic bald eagle design. The eagle as it holds arrows and an olive branch with its talon.
Silver half dollars from the Flowing Hair motif to the Draped Bust version to the Barber half dollars have attracted a large and active collector base. This outstanding specimen will appeal to numismatics of high quality rarities as well as those specializing in early half dollar varieties.
A LITTLE STICKER MAKES A BIG DIFFERENCE.
Within each number of the coin grading scale is a small range of condition from low-end to high-end. Certified coins of the same grade can be of varying quality. Many of today's collectors want coins that are solid or premium quality for their assigned grade. CAC holds coins to a higher standard so you can be confident in the value of yours. We verify previously graded coins … and award our sticker only to those coins that meet the standard for today's selective buyer.
WHAT THE CAC STICKER MEANS:
Verified. Your coin has been verified as meeting the standard for strict quality within its grade.
Guaranteed. CAC stands behind our verification by making markets in most actively traded coins.
THE CAC STICKER IS BACKED BY EXPERIENCE.
CAC was founded by leading members of the numismatic community, including John Albanese, a respected authority on coin grading and the rare coin market.