1831 Capped Bust Half Dollar PCGS MS65 CAC
Price
Call for price --

1-800-880-4653


.
Blanchard prides itself on sourcing the highest quality numismatics available anywhere. If there is a coin that you are searching for, contact us today. Learn more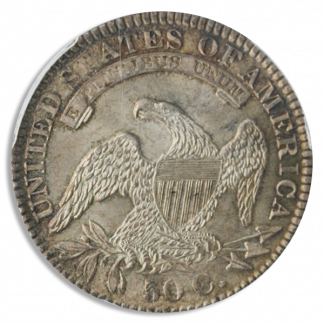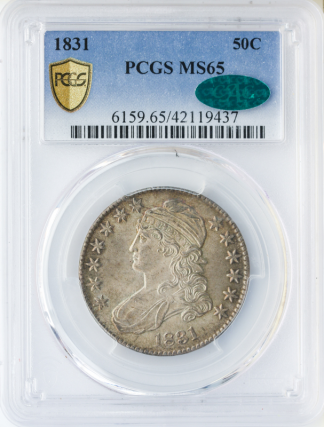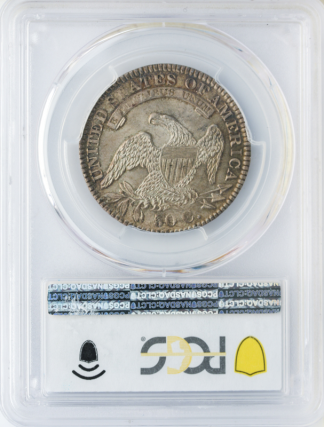 The Capped Bust Half Dollar with a lettered edge was minted from 1807-1836 and is a true darling of the numismatic community. Known fondly as "Bust Halves", this coin has a huge and passionate following, as it was the end of an era of virtually handmade coins. The screw presses that minted the coins were powered by men, and each die was hand-made with each star, date and letter being individually hand punched. This process led to a treasure trove of varieties for aficionados to study and acquire. Toss in the 30-year run for the series and it is easy to understand why there are so many different varieties. During that 30-year life, coins were minted every year except for 1816, when a fire at the Mint destroyed equipment. 
Designed by John Reich, Liberty is facing left wearing a soft cap with LIBERTY incused. The soft cap has no particular meaning; it was just the fashion of the day. Seven stars are arranged along the left rim, and six stars are placed along the right rim. The date remains at the bottom. The reverse has a more natural-appearing eagle, with the Union shield imposed on its chest. E PLURIBUS UNUM, still incused on a ribbon, was moved to form an arc above the eagle. The eagle clutches arrows and an olive branch, each in its proper claw in terms of heraldry. UNITED STATES OF AMERICA is arranged around the central devices, with the denomination at the bottom expressed as 50 C. The denomination is also on the edge of the coin, expressed as FIFTY CENTS OR HALF A DOLLAR.
This particular coin was minted in 1831 and is PCGS graded MS65, along with the CAC sticker.
A LITTLE STICKER MAKES A BIG DIFFERENCE.
Within each number of the coin grading scale is a small range of condition from low-end to high-end. Certified coins of the same grade can be of varying quality. Many of today's collectors want coins that are solid or premium quality for their assigned grade. CAC holds coins to a higher standard so you can be confident in the value of yours. We verify previously graded coins … and award our sticker only to those coins that meet the standard for today's selective buyer.
WHAT THE CAC STICKER MEANS:
Verified. Your coin has been verified as meeting the standard for strict quality within its grade.
Guaranteed. CAC stands behind our verification by making markets in most actively traded coins.
THE CAC STICKER IS BACKED BY EXPERIENCE.
CAC was founded by leading members of the numismatic community, including John Albanese, a respected authority on coin grading and the rare coin market.