1834 Capped Bust Half Dollar PCGS MS65 CAC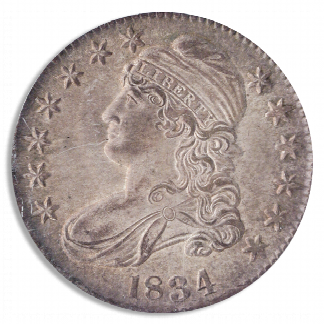 The 1834 Capped Bust Half Dollar, graded PCGS MS65 with CAC endorsement, offers a superb representation of early American coinage artistry and preservation. With the CAC verification, this coin attains an additional level of recognition for its exceptional quality within its grade.
Who could be more fitting to design the new coins of our young nation than an immigrant to America? John Reich, originally from Bavaria, honed his engraving skills under his father's guidance, who taught him the art of crafting medals. Upon relocating to the United States, Reich's craftsmanship drew the attention of Thomas Jefferson, who advocated for him to become the assistant engraver at the U.S. Mint. Initially resisted by the chief engraver Robert Scot, Reich eventually became Scot's assistant due to his own failing eyesight. Among Reich's initial tasks was the overhaul of Scot's coin designs. Reich's rendition of the Capped Bust Half Dollar showcases Liberty's left-facing bust, crowned with a Phrygian or Freedom Cap. This cap, with its historical ties to Roman symbolism, represents liberty and freedom, making this coin a symbol of freedom itself, especially resonating with its use during the American and French revolutions. The reverse side, which featured a spread-winged bald eagle clutching arrows and olive branches, alongside the words "E Pluribus Unum" on a scroll above, became a recurrent motif on 19th-century silver coinage. Capped Bust Half Dollars remain a favored choice for investors due to their accessibility, reasonable pricing, and extensive variety. In our present inventory, we proudly offer the 1834 Capped Bust Half Dollar, graded MS65 by PGCS and CAC. As these coins saw widespread circulation, obtaining one in such impeccable condition is truly exceptional.
A LITTLE STICKER MAKES A BIG DIFFERENCE.
Within each number of the coin grading scale is a small range of condition from low-end to high-end. Certified coins of the same grade can be of varying quality. Many of today's collectors want coins that are solid or premium quality for their assigned grade. CAC holds coins to a higher standard so you can be confident in the value of yours. We verify previously graded coins … and award our sticker only to those coins that meet the standard for today's selective buyer.
WHAT THE CAC STICKER MEANS:
Verified. Your coin has been verified as meeting the standard for strict quality within its grade.
Guaranteed. CAC stands behind our verification.
THE CAC STICKER IS BACKED BY EXPERIENCE.
CAC was founded by leading members of the numismatic community, including John Albanese, a respected authority on coin grading and the rare coin market.