1839-O $2.50 Classic PCGS MS64 CAC


.
Blanchard prides itself on sourcing the highest quality numismatics available anywhere. If there is a coin that you are searching for, contact us today. Learn more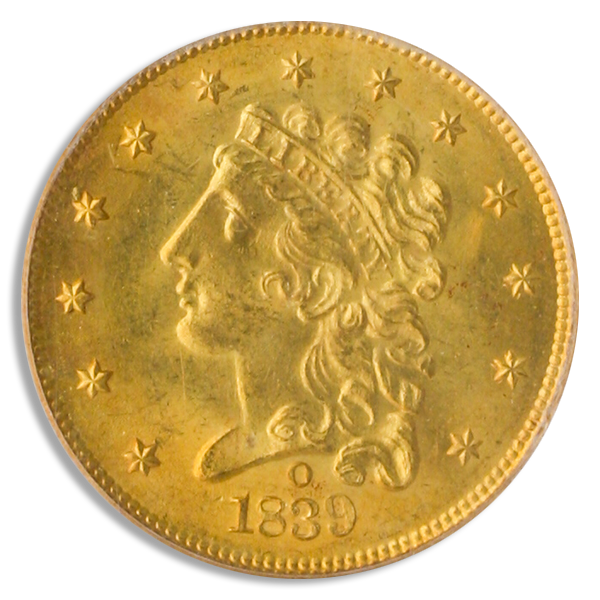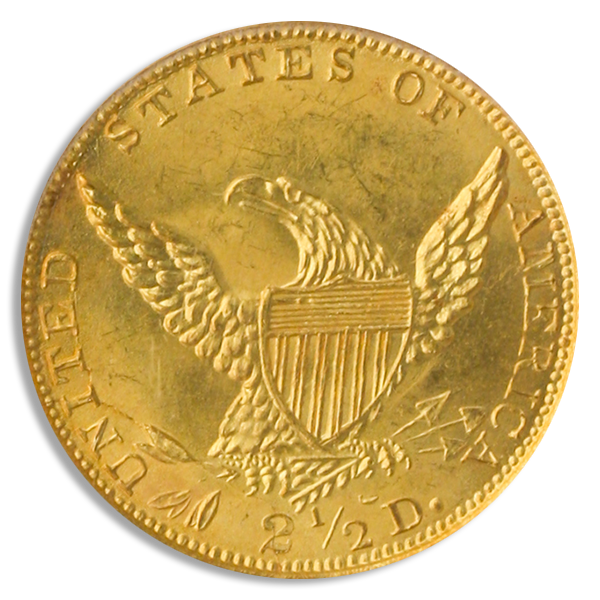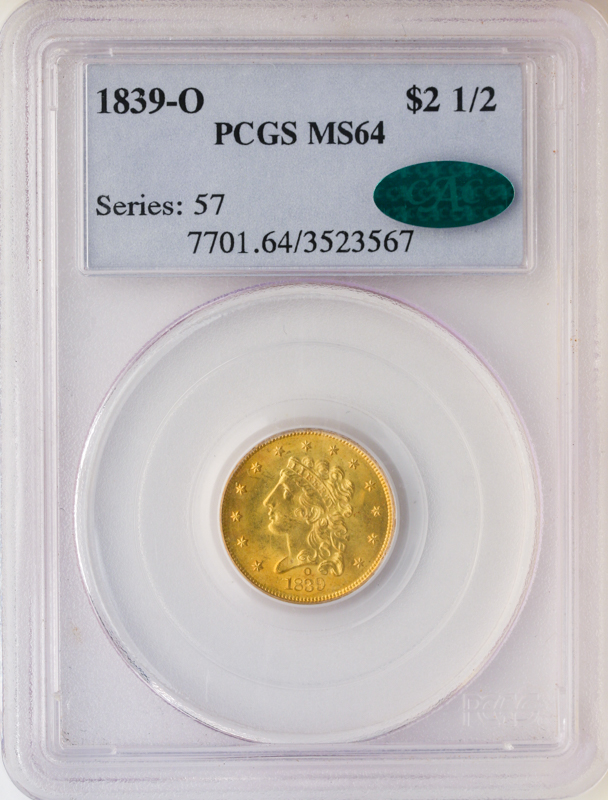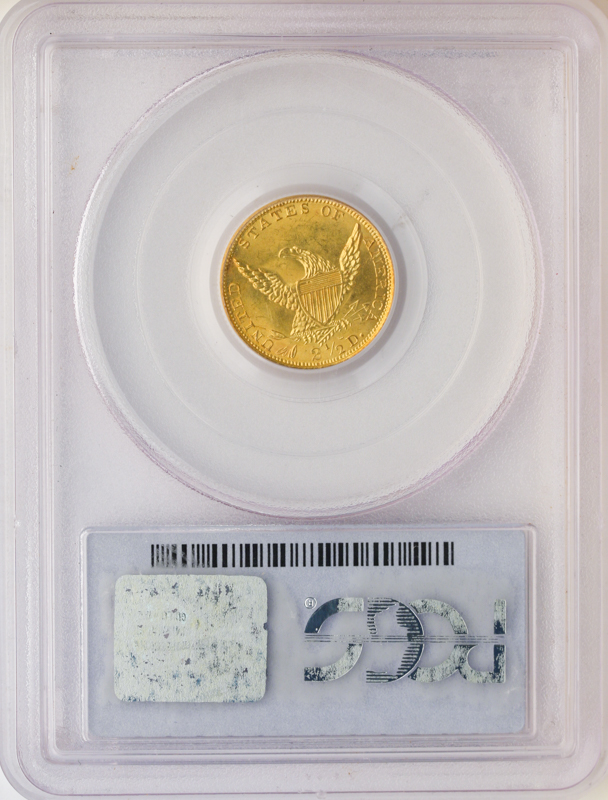 The obverse of Classic Head Quarter Eagles is an adaptation of the obverse used on 1808 Large Cents. A rather androgynous Miss Liberty faces left, curly hair flowing to her shoulders wearing a fillet with LIBERTY in relief. Thirteen stars surround her, and the date is centered at the bottom. The reverse, very similar to its predecessor, has an eagle with spread wings, the Union shield superimposed on its chest, holding an olive branch and three arrows. The denomination is centered at the bottom and the legend surrounds the eagle. A major change was the elimination of the motto E PLURIBUS UNUM.
A result of rising gold prices was for coins to be worth more as bullion than as coins. Vast quantities of coins were exported and melted, and thus disappeared from circulation. To get gold coins back into use, Congress mandated a 6% reduction in the amount of gold in U.S. coins. A new design had to be created to signify this major change. A change also had to be implemented quickly, as the lack of circulating gold coins was doing harm to Americans and the economy. Instead of going through the time-consuming process of creating an entirely new design, Mint Engraver William Kneass adapted John Reich's 1808 Large Cent obverse – and a rather strange design it is. Miss Liberty looks very much like a young man or boy from the time of the ancient Greeks. The fillet bearing the word LIBERTY was an award worn by Greek boys who were winners of local athletic contests. Females never wore such a ribbon. However, time constraints forced the Mint into quick action, and this happened to be Kneass' remedy. Although the reverse of Classic Head Quarter Eagles is very similar to the one found on the Capped Bust Type, this reverse does not have the motto E PLURIBUS UNUM present. This change was one way to signify the new, lower gold content of the coin. As the old quarter eagles were now worth $2.66, the Mint believed they would receive a large influx of old coins to be minted into new ones. They were proved correct in their thinking, and mintages of quarter eagles exploded. The first three years of the Classic Head Type saw 10 times more quarter eagles made than all previous quarter eagle design Types combined. The coins went immediately into circulation, and stayed there.
Although most collect Classic Heads by Type, it is a series that attracts a very large number of date and mintmark set builders, as only 10 coins are required and all are affordable. It is also one of the few gold Types available to the collector wishing to build a set by date, mintmark and all major varieties.
A LITTLE STICKER MAKES A BIG DIFFERENCE.
Within each number of the coin grading scale is a small range of condition from low-end to high-end. Certified coins of the same grade can be of varying quality. Many of today's collectors want coins that are solid or premium quality for their assigned grade. CAC holds coins to a higher standard so you can be confident in the value of yours. We verify previously graded coins … and award our sticker only to those coins that meet the standard for today's selective buyer.
WHAT THE CAC STICKER MEANS:
Verified. Your coin has been verified as meeting the standard for strict quality within its grade.
Guaranteed. CAC stands behind our verification.
THE CAC STICKER IS BACKED BY EXPERIENCE.
CAC was founded by leading members of the numismatic community, including John Albanese, a respected authority on coin grading and the rare coin market.