1854 Ty 1 Gold $1 PCGS MS64
Price
Call for price --

1-800-880-4653


.
Blanchard prides itself on sourcing the highest quality numismatics available anywhere. If there is a coin that you are searching for, contact us today. Learn more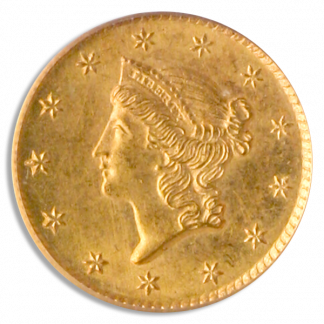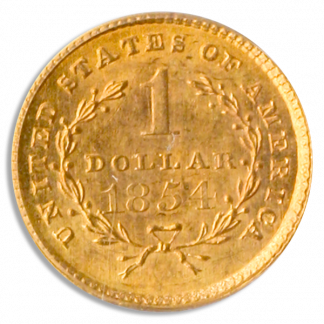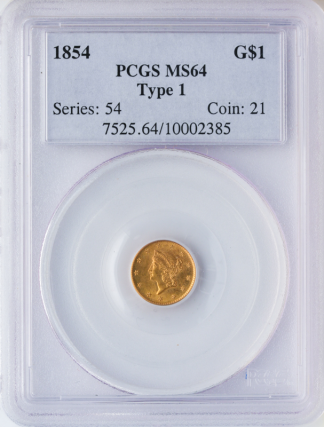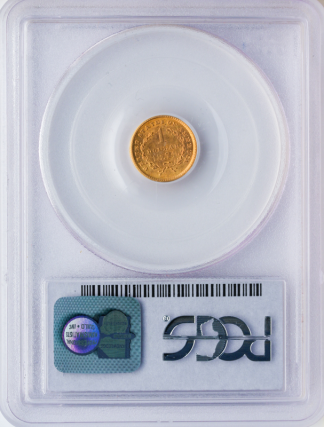 In 1791, Alexander Hamilton brought up the idea of creating $1 gold coins but it wasn't until 1830 that the idea grew more popular. Still, it was 1849 before the first $1 gold coin was minted by the U.S. Mint. As so often was the case in early American coinage, the $1 gold piece was created in response to a gold rush...the lesser known Southern Gold Rush.
Gold was first discovered in Cabarrus County, North Carolina in 1799, although the finder did not realize what he had until 1802. Georgia became another gold mining center in 1828. A confluence of events led to the private minting of 1-dollar gold pieces. A German immigrant, Alt Christoph Bechtler, came to America in 1829. In 1830 he moved to Rutherfordton, North Carolina and established a jewelry shop. Gold, in the form of nuggets and dust, was the accepted medium of exchange in the area due to the large amounts of gold being found, and a shortage of any coinage. Bechtler, seeing a business opportunity, offered to refine raw gold and turn it into gold coins for a small fee. Many took advantage of the service and by 1840 Bechtler had more than 2 million dollars' worth of gold coins, about half being 1-dollar pieces. Bechtler coins were held in such high regard that many contracts signed in the South stipulated payment be made only with Bechtler gold coins. For many years after the Civil War Bechtler gold coins were the only gold coins most Southerners ever encountered.
In this era, businesses and individuals could take bullion and foreign or private gold coins to the Mint to be assayed and converted into regular-issue American coins. Because of this, the Mint became very aware of Bechtler's coinage. As more and more Bechtler coins entered circulation, the government began to consider minting 1-dollar gold coins. In 1838 Congress proposed a 1-dollar gold coin, but Mint Director Robert Patterson objected, so no coins were minted. As the public was asking for the denomination, Congress again proposed a 1-dollar gold coin in 1844. Again Patterson objected, this time going so far as to bring in gold-plated silver coins to show how easily a gold dollar could be counterfeited. Again the proposal died, even though Patterson's argument had no validity. In this time period, people accepted gold coins by weight, not just by the writing on the coin. Few, if any, would be fooled by a gold-plated silver coin. The American economy was about to force this coin on the Mint. In 1849 the country was still feeling the impact of the economic hardships of the 1837–1844 era known as the "Hard Times". There were virtually no coins in circulation, as they were all being hoarded. Vast numbers of Americans were unemployed and literally starving. The existing paper money was often worthless, and it was extremely difficult to conduct business, so something had to be done to get coins into circulation. One answer was the gold dollar. In addition to the need for such a coin, there was also a need to find a use for all the gold suddenly coming from California. On March 3, 1849 Congress authorized both a 1-dollar gold coin and a 20-dollar gold coin.