1856 Flying Eagle Cent PCGS PR30 CAC
Price
Call for price --

1-800-880-4653


.
Blanchard prides itself on sourcing the highest quality numismatics available anywhere. If there is a coin that you are searching for, contact us today. Learn more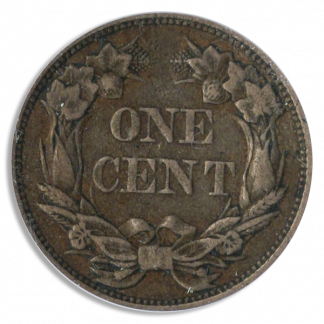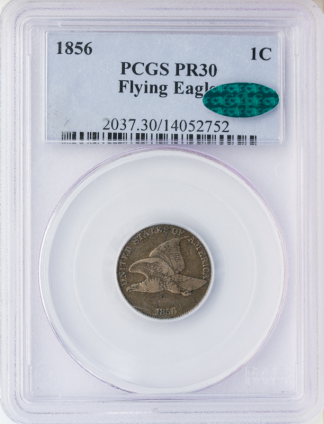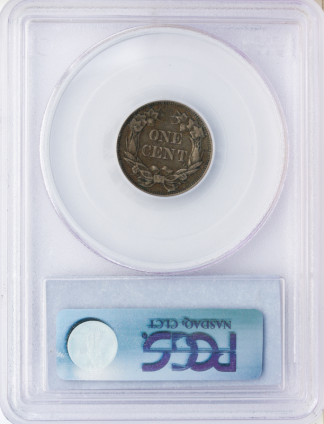 After 50 years, America's cent had grown too big for our collective britches. The cent was a full inch across, making it slightly bigger than today's quarter, and it was more than twice as heavy. This made it inconvenient to carry change around with you; just imagine having 10 quarters jangling around in your pocket—but all that metal only being worth 10 cents. Also, to be perfectly honest, we've had some truly ugly cents in our past (have you ever seen the Chain Cent?). Not only were some of the designs lackluster but, being unalloyed copper, our old cents quickly blackened in circulation, which did little to improve their appearance. And to add insult to public disdain, the mint was actually
losing
money on the cents it produced. Obviously, it was time for a change—an upgrade to a more modern cent, one that reflected the needs of modern commerce. Enter the Flying Eagle Cent, a pivotal coin in our nation's transition to smaller, more practical coinage. This cent was the result of the mint's tests with alternative metals and sizes, until they landed on an alloy of 88% copper and 12% nickel and a coin that was half the size of the old cents. The design features an eagle in flight on one side, and a simple, beautiful wreath on the other. When the new cent was made available to the public in 1857, it was a huge hit. The government set up shop to sell the coins in the yard outside the Philadelphia Mint. Thousands of buyers thronged the yard, eager to sell their large cents or silver coins and get $5 canvas sacks of Flying Eagle cents in return.
A LITTLE STICKER MAKES A BIG DIFFERENCE.
Within each number of the coin grading scale is a small range of condition from low-end to high-end. Certified coins of the same grade can be of varying quality. Many of today's collectors want coins that are solid or premium quality for their assigned grade. CAC holds coins to a higher standard so you can be confident in the value of yours. We verify previously graded coins … and award our sticker only to those coins that meet the standard for today's selective buyer.
WHAT THE CAC STICKER MEANS:
Verified. Your coin has been verified as meeting the standard for strict quality within its grade.
Guaranteed. CAC stands behind our verification by making markets in most actively traded coins.
THE CAC STICKER IS BACKED BY EXPERIENCE.
CAC was founded by leading members of the numismatic community, including John Albanese, a respected authority on coin grading and the rare coin market.