1865 2 Cent PCGS MS65 RD CAC


.
Blanchard prides itself on sourcing the highest quality numismatics available anywhere. If there is a coin that you are searching for, contact us today. Learn more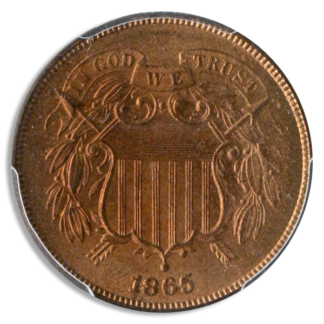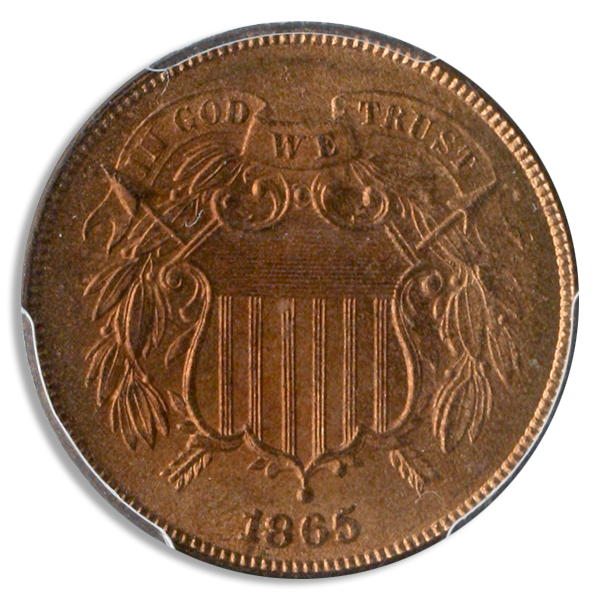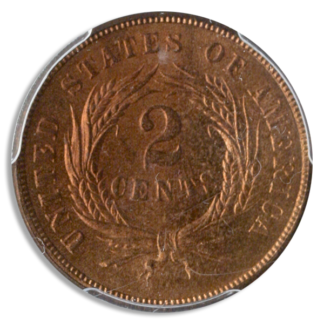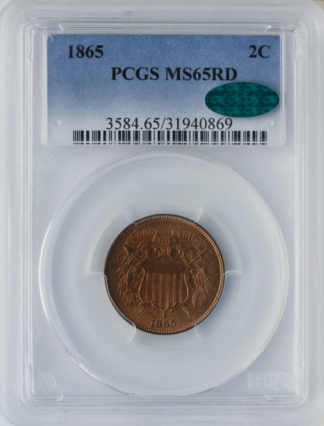 There are some things you pine for.
A 2-cent coin is probably not one of them. Not now at least...
But in the 1800s, you could almost say there was a zeal for a 2-cent piece.
It took Congress three separate attempts — over a span of nearly 60 years — to approve the striking of a 2-cent coin.
In the spring of 1806, Senator Uriah Tracy from Connecticut first introduced legislation to authorize the U.S. Mint to strike a two-cent coin.
But concerned about fraud, Mint Director Robert Patterson threw his weight around to stop the plan. To illustrate his concerns, Patterson sent a brass button alongside two of the composite blanks for the proposed 2-cent coins to Senator Tracy to show how easy it would be to swap a button in the place of the proposed coin. Senator Tracy backed down.
But the idea of a 2-cent coin surfaced again in 1836. President Andrew Jackson's Treasury Secretary Levi Woodbury proposed a 2-cent coin for the second time. And, the mint assayer produced pattern coins for these pieces.
The Mint Director stepped in. Again. Robert M. Patterson had taken the helm of the U.S. Mint: the son of Robert Patterson who had stalled the initial attempt back in 1806. Like father, like son! The young Patterson was also able to stop the 2-cent coin from becoming a reality.
The third attempt came with the Civil War, when northerners were hoarding coins, fearing that if the war went badly, paper currency and government bonds would be worthless. The resulting coin shortage resulted in private tokens filling the gap. So, Congress passed the Act of April 22, 1864, which — after three tries — finally passed into a law a provision to create a bronze two-cent piece. They hoped this would alleviate the coin shortage.
(Interestingly, we in 2021 face a coin shortage, too, but for a different reason: the COVID lockdowns. But instead of using private tokens or 2-cent pieces, we're just staying home and ordering contactless delivery.)
First minted in 1864, the 2-cent coin appeared as an initial success as the coin-starved public began to use and circulate the coins. Yet once the Civil War ended and regular coins reappeared in circulation, usage of the 2-cent coin dropped precipitously.
In the end, the 2-cent coins were minted only from 1864 through 1873, making them rare in both date and denomination.
A LITTLE STICKER MAKES A BIG DIFFERENCE.
Within each number of the coin grading scale is a small range of condition from low-end to high-end. Certified coins of the same grade can be of varying quality. Many of today's collectors want coins that are solid or premium quality for their assigned grade. CAC holds coins to a higher standard so you can be confident in the value of yours. We verify previously graded coins … and award our sticker only to those coins that meet the standard for today's selective buyer.
WHAT THE CAC STICKER MEANS:
Verified. Your coin has been verified as meeting the standard for strict quality within its grade.
Guaranteed. CAC stands behind our verification by making markets in most actively traded coins.
THE CAC STICKER IS BACKED BY EXPERIENCE.
CAC was founded by leading members of the numismatic community, including John Albanese, a respected authority on coin grading and the rare coin market.