1870 Gold $1 Type 3 PCGS MS65 CAC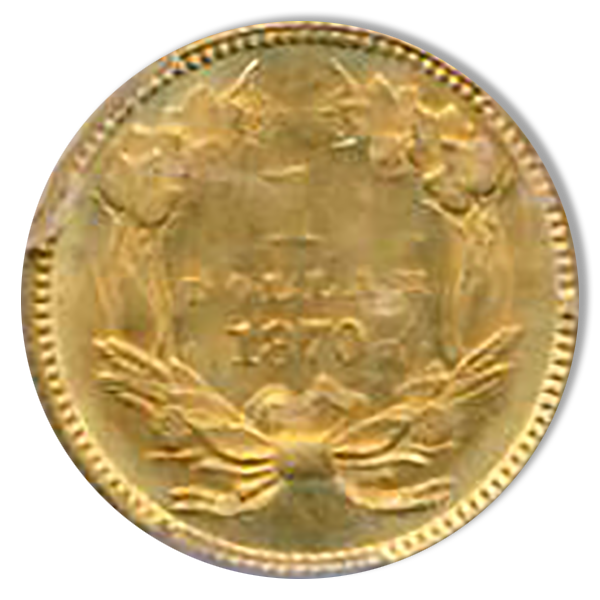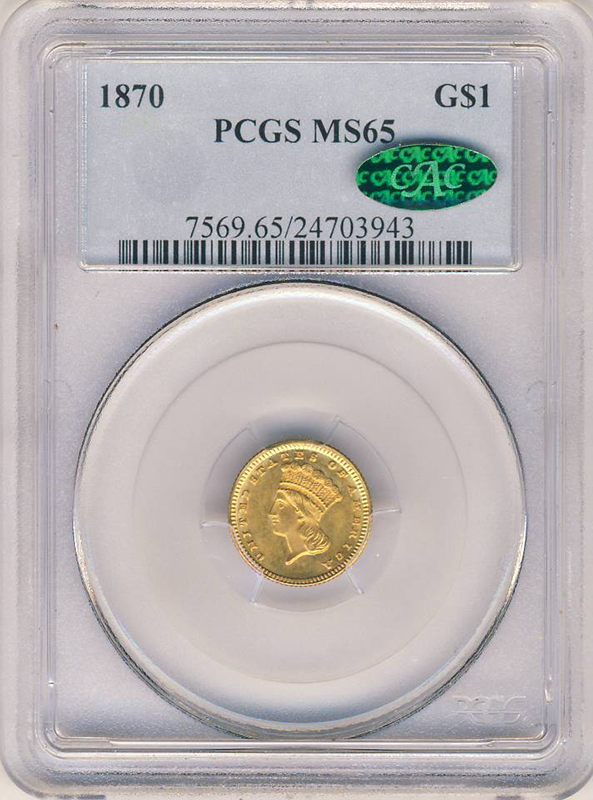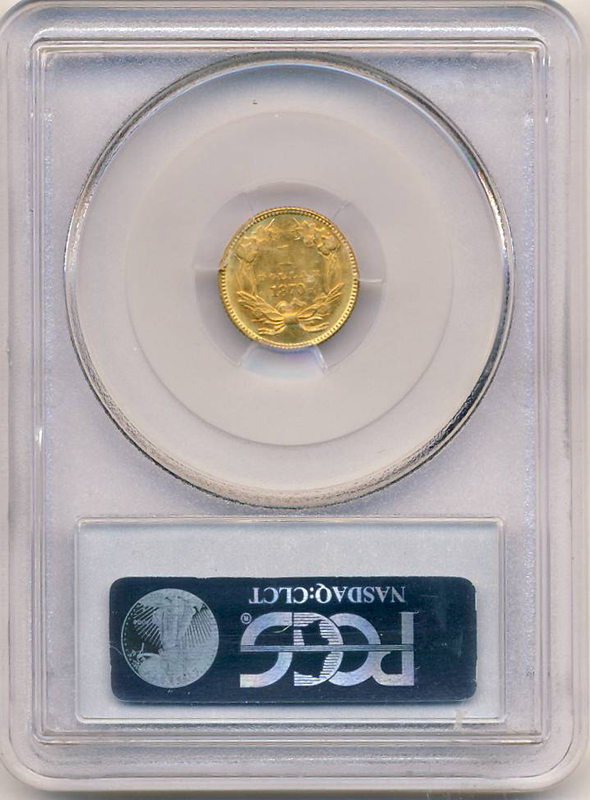 In 1849, the US Mint initiated the production of a novel gold dollar which faced a significant issue: its size was exceedingly small, measuring a mere half-inch or 13 millimeters in diameter. This diminutive dimension led to a constant issue of people misplacing the dollar. During that time, losing a dollar held substantial significance, as it represented a full day's wage for many individuals. Consequently, in 1854, the US Mint introduced a fresh iteration of the gold dollar known as the Small Head Indian Princess Head gold dollar, sometimes referred to as the Type II gold dollar. Regrettably, the Mint struggled to think beyond the limitations of the small coin, opting for a slightly larger 15-millimeter version. This seemingly minor adjustment of two millimeters did little to alleviate the issue. Furthermore, Chief Engraver James B. Longacre made an error by crafting the coin's obverse relief too high, resulting in a scarcity of well-struck coins. This led to rapid wear of nearly all Small Head Indian Princess gold dollars while in circulation. However, the Mint found success on its third attempt in 1856 with the introduction of the Type III gold dollar, also recognized as the Large Head Indian Princess gold dollar. Interestingly, despite its moniker, the "large head" dollar was not physically larger than its "small head" counterpart. Nevertheless, the Mint effectively resolved the production challenges, resulting in well-crafted coins. Despite the improved production quality, the Type III dollar remained unpopular among the public and by the 1880s, it was predominantly manufactured as a novelty item. Nonetheless, collectors developed an affinity for it due to its availability and the opportunity to create a three-coin set, each representing a different type. Notably, the distinctive design of Lady Liberty adorned with a headdress further contributes to its appeal among collectors.
A LITTLE STICKER MAKES A BIG DIFFERENCE.
Within each number of the coin grading scale is a small range of condition from low-end to high-end. Certified coins of the same grade can be of varying quality. Many of today's collectors want coins that are solid or premium quality for their assigned grade. CAC holds coins to a higher standard so you can be confident in the value of yours. We verify previously graded coins … and award our sticker only to those coins that meet the standard for today's selective buyer.
WHAT THE CAC STICKER MEANS:
Verified. Your coin has been verified as meeting the standard for strict quality within its grade.
Guaranteed. CAC stands behind our verification.
THE CAC STICKER IS BACKED BY EXPERIENCE.
CAC was founded by leading members of the numismatic community, including John Albanese, a respected authority on coin grading and the rare coin market.