1877 Gold $1 Indian Princess PCGS MS65 CAC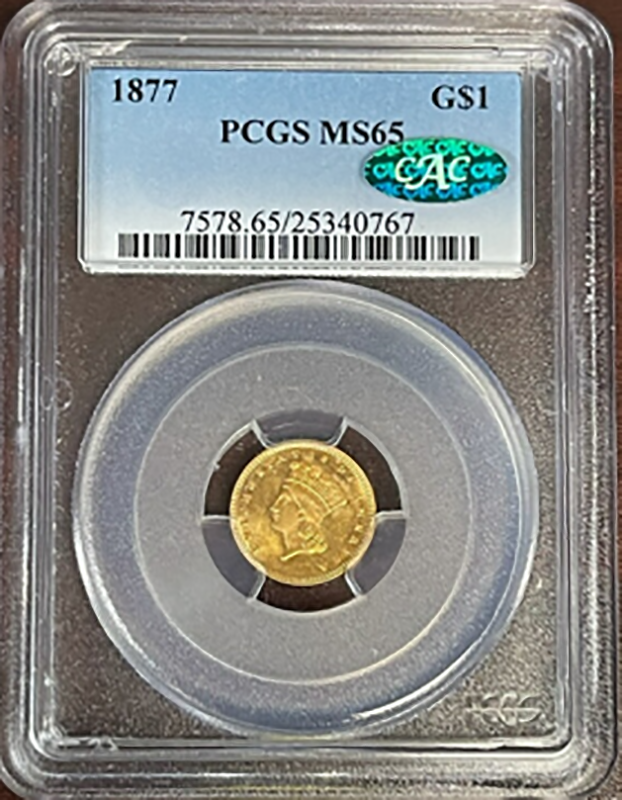 This obverse is very similar to the previous (Type 2), with the most noticeable change being the size of Liberty's slightly modified portrait, which is much larger on this Type. The legend UNITED STATES OF AMERICA has been moved a bit closer to the edge of the coin. The reverse has stayed very much the same, with some minor changes in the size of the lettering and the location of the wreath.
To solve the striking problems of the Type 2 Dollar, this coin has a lower relief, and changes in the locations of the devices. Unlike the Type 2 Gold Dollar, this version does not have the obverse legend directly opposite the wreath found on the reverse. Both of these changes proved to be successful, and the design remained the same until the denomination ended in 1889.
In 1856 the Mint produced over 1.7 million Type 3 Gold Dollars to replace the two previous Types that had been recalled. Although the branch Mints did not produce large quantities, Philadelphia continued large mintages until 1862. After 1862 small mintages were the order to the day. As this was during the Civil War, gold coins were being hoarded, and any the Mint might produce would never enter circulation. Those minted were primarily used to pay certain bondholders and overseas creditors who would accept nothing but gold coins. This has worked out well for today's collector, as even though relatively few were minted, it is easy to find high-grade Type 3 gold Dollars, because when issued they generally went straight into bank vaults rather than the normal circulating business channels.
Coins were minted in Philadelphia, Dahlonega, Charlotte and San Francisco, all with reeded edges. This issue is usually collected as a Type, with collectors acquiring one high-grade example. A few wealthy collectors with a lot of patience do attempt a complete date and mintmark set.
A LITTLE STICKER MAKES A BIG DIFFERENCE.
Within each number of the coin grading scale is a small range of condition from low-end to high-end. Certified coins of the same grade can be of varying quality. Many of today's collectors want coins that are solid or premium quality for their assigned grade. CAC holds coins to a higher standard so you can be confident in the value of yours. We verify previously graded coins … and award our sticker only to those coins that meet the standard for today's selective buyer.
WHAT THE CAC STICKER MEANS:
Verified. Your coin has been verified as meeting the standard for strict quality within its grade.
Guaranteed. CAC stands behind our verification.
THE CAC STICKER IS BACKED BY EXPERIENCE.
CAC was founded by leading members of the numismatic community, including John Albanese, a respected authority on coin grading and the rare coin market.