1878 $3 PCGS MS65 CAC


.
Blanchard prides itself on sourcing the highest quality numismatics available anywhere. If there is a coin that you are searching for, contact us today. Learn more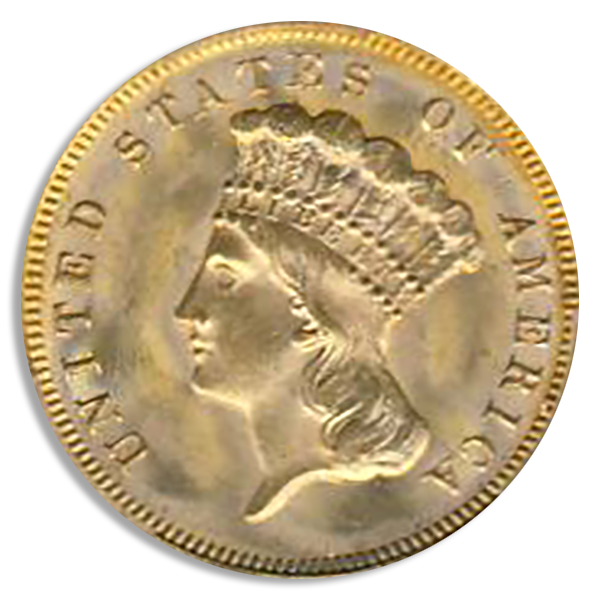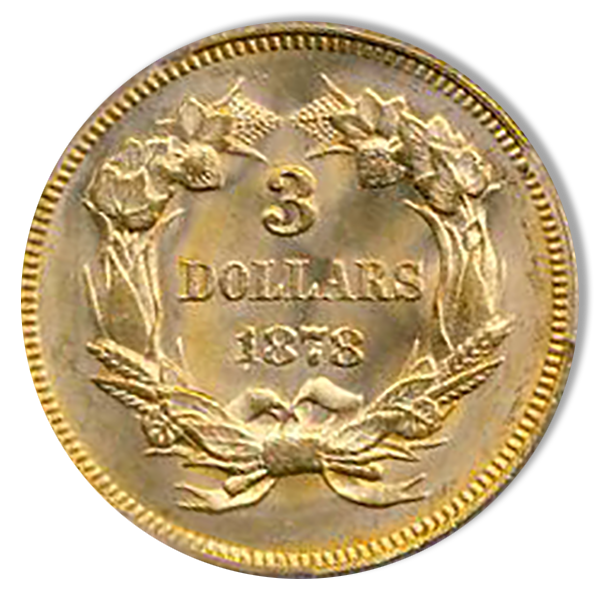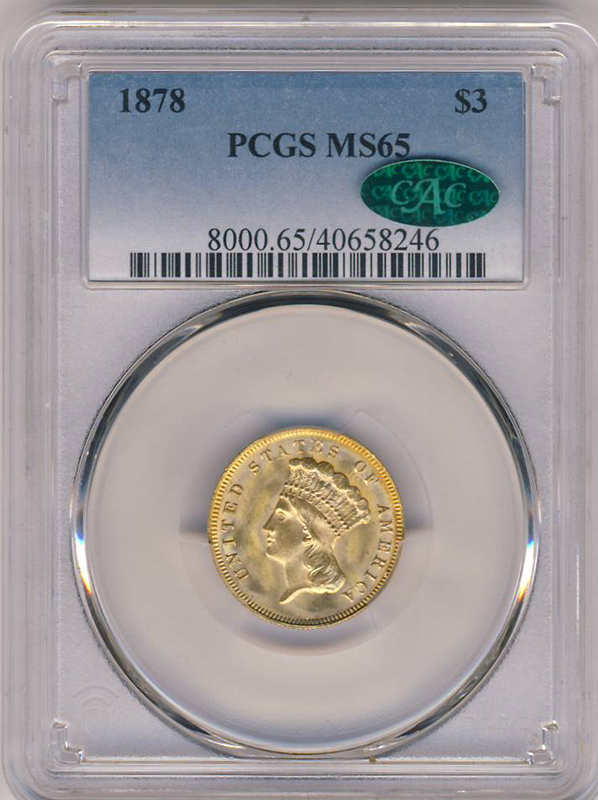 On the obverse side, there is a depiction of Liberty facing left, encircled by the inscription UNITED STATES OF AMERICA. Liberty is adorned with an Indian headdress adorned with ostrich plumes. A band on the headdress carries the inscription LIBERTY. The reverse features a wreath composed of wheat, cotton, corn, and tobacco. Within this wreath, the denomination and date are displayed, while the mintmark is positioned below the wreath. Commonly known as the Indian Princess Head, this coin features a portrayal of Liberty that is not representative of a Native American, but rather draws inspiration from the Greco-Roman statue Venus Accroupie, which the designer admired at a museum in Philadelphia. The incorporation of the headdress is intended to imbue the piece with a national identity. This specific headdress had been utilized by engravers as far back as 1562 as a universally recognizable symbol of America. The wreath serves a dual purpose—it highlights America's agricultural abundance and conveys a political message. In 1854, the United States was a divided nation on the brink of the Civil War. Cotton, an exclusively Southern crop, was included in the wreath to lend a sense of unity to the coin's design. Three-dollar coins were produced in Philadelphia, Dahlonega, New Orleans, and San Francisco. The limited demand for this coin is evidenced by the fact that branch Mints only minted coins in 5 out of the 35 years, and even then, in relatively small quantities.
A LITTLE STICKER MAKES A BIG DIFFERENCE.
Within each number of the coin grading scale is a small range of condition from low-end to high-end. Certified coins of the same grade can be of varying quality. Many of today's collectors want coins that are solid or premium quality for their assigned grade. CAC holds coins to a higher standard so you can be confident in the value of yours. We verify previously graded coins … and award our sticker only to those coins that meet the standard for today's selective buyer.
WHAT THE CAC STICKER MEANS:
Verified. Your coin has been verified as meeting the standard for strict quality within its grade.
Guaranteed. CAC stands behind our verification.
THE CAC STICKER IS BACKED BY EXPERIENCE.
CAC was founded by leading members of the numismatic community, including John Albanese, a respected authority on coin grading and the rare coin market.