1889-S $10 Liberty PCGS MS63 CAC +
Price
Call for price --

1-800-880-4653


.
Blanchard prides itself on sourcing the highest quality numismatics available anywhere. If there is a coin that you are searching for, contact us today. Learn more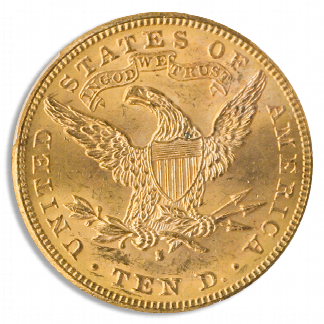 The history of the U.S. Eagle coins is rich and varied.
The American decimal coinage system was anchored by three denominations: 10 cents, 1 dollar and 10 dollars. Ten-dollar coins were officially named eagles after our national symbol, and the other two gold coins authorized in 1792 were expressed as fractions of the eagle. Congress envisioned the eagle being the gold coin most used in both domestic and foreign commerce. It would seem logical that a coin of this stature would be the first gold coin the new nation would mint. It was the half eagle, however, that was minted first, perhaps at the urging of bankers.
As people tend to prefer the familiar, half eagles became the coin banks would request, pretty much ignoring the larger eagle. The eagle's value was also a hindrance. It was too large for everyday transactions, and too small for large transactions. Ten dollars was a substantial amount of money in 1795, and few individuals had need for such a large coin. When large payments were required, the familiar doubloons, 5-guinea British coins and Brazilian 12,800 Reis were the favored pieces. Simply stated, eagles had very little demand and even less circulation. Eagles, first minted in 1795, were struck each year through 1804, except for 1802 when none were produced due to lack of demand.
This coin was minted in San Francisco in 1899 and is PCGS graded MS63, along with the coveted CAC sticker.
A LITTLE STICKER MAKES A BIG DIFFERENCE.
Within each number of the coin grading scale is a small range of condition from low-end to high-end. Certified coins of the same grade can be of varying quality. Many of today's collectors want coins that are solid or premium quality for their assigned grade. CAC holds coins to a higher standard so you can be confident in the value of yours. We verify previously graded coins … and award our sticker only to those coins that meet the standard for today's selective buyer.
WHAT THE CAC STICKER MEANS:
Verified. Your coin has been verified as meeting the standard for strict quality within its grade.
Guaranteed. CAC stands behind our verification by making markets in most actively traded coins.
THE CAC STICKER IS BACKED BY EXPERIENCE.
CAC was founded by leading members of the numismatic community, including John Albanese, a respected authority on coin grading and the rare coin market.