1890-CC $20 Liberty NGC AU55 CAC
Price
Call for price --

1-800-880-4653


.
Blanchard prides itself on sourcing the highest quality numismatics available anywhere. If there is a coin that you are searching for, contact us today. Learn more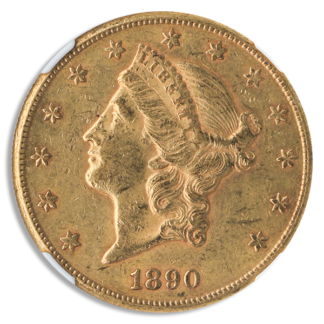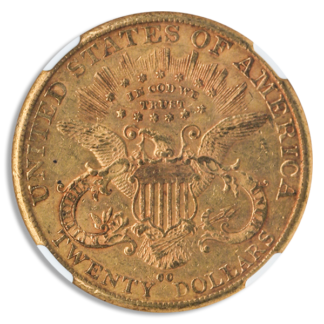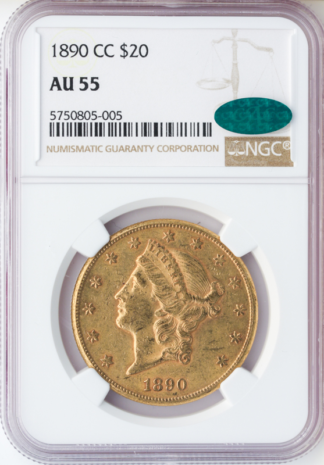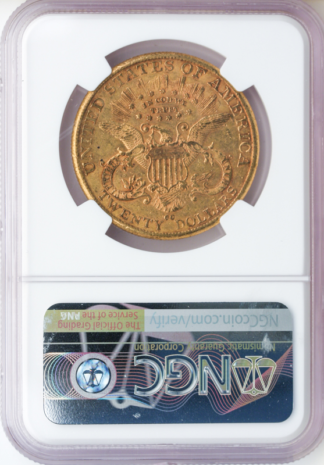 The difference between this Type and the previous one is the manner in which the denomination is expressed. On earlier Types, the denomination was presented as TWENTY D. On this Type it is displayed as TWENTY DOLLARS . In 1900 the reverse had a minor modification made to the smoothness of the back of the eagle's neck.
This is by far the most common of the three Types of Liberty Head Double Eagles, with over 64 million pieces minted. In 1904 the Philadelphia Mint struck 6,256,699 coins, making it the second highest mintage of any U.S. circulating gold coin, exceeded only by the 1928 Double Eagle, which had a mintage in excess of eight million. The coin was produced in Philadelphia, San Francisco, New Orleans, Carson City and Denver.
Type 3 Liberty Head Double Eagles were heavily used for international payments, as foreigners preferred gold coins to paper money. Literally millions of Type 3 Liberty Head Double Eagles were sent overseas. To this day, most Liberty Head Double Eagles newly introduced to the market have been imported from Europe.
A LITTLE STICKER MAKES A BIG DIFFERENCE.
Within each number of the coin grading scale is a small range of condition from low-end to high-end. Certified coins of the same grade can be of varying quality. Many of today's collectors want coins that are solid or premium quality for their assigned grade. CAC holds coins to a higher standard so you can be confident in the value of yours. We verify previously graded coins … and award our sticker only to those coins that meet the standard for today's selective buyer.
WHAT THE CAC STICKER MEANS:
Verified. Your coin has been verified as meeting the standard for strict quality within its grade.
Guaranteed. CAC stands behind our verification by making markets in most actively traded coins.
THE CAC STICKER IS BACKED BY EXPERIENCE.
CAC was founded by leading members of the numismatic community, including John Albanese, a respected authority on coin grading and the rare coin market.