1890-CC $20 Liberty PCGS MS61 CAC


.
Blanchard prides itself on sourcing the highest quality numismatics available anywhere. If there is a coin that you are searching for, contact us today. Learn more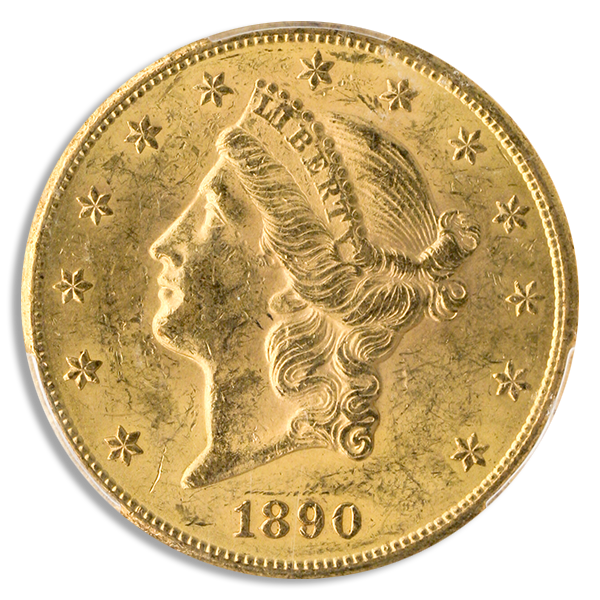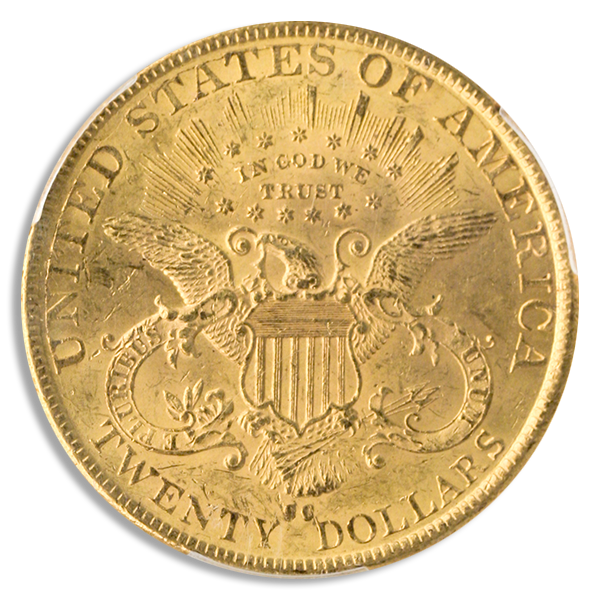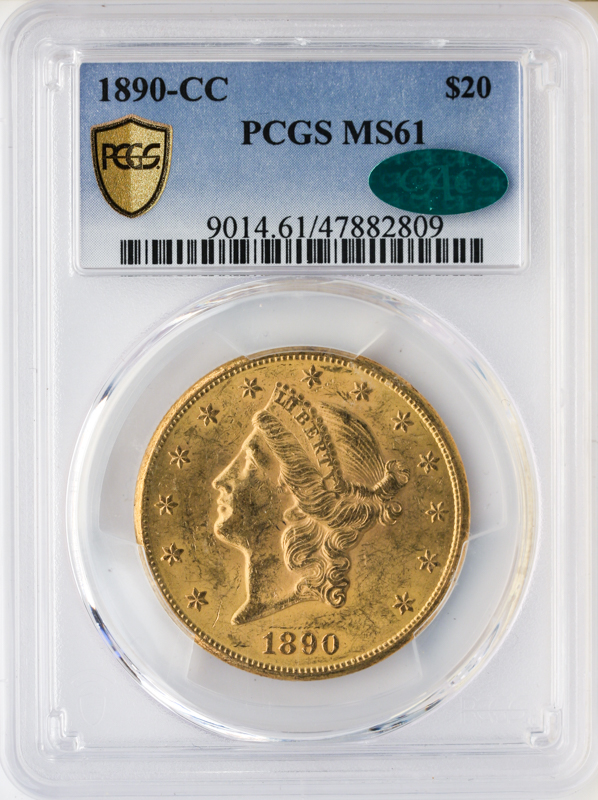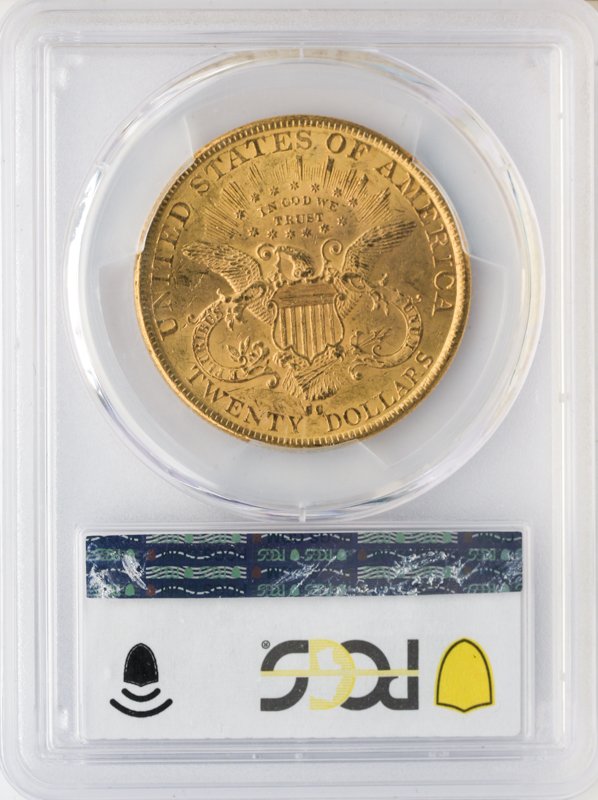 The 1890-CC $20 Liberty Gold Double Eagle coin, graded PCGS MS61 and endorsed by CAC, offers a captivating glimpse into the rich history of American coinage. Its PCGS MS61 grade and CAC approval elevate its collectible value, making it especially appealing to numismatists fascinated by its historical significance and the rarity of pre-Civil War gold coins. The obverse of this coin showcases a graceful depiction of Liberty, facing left and surrounded by a constellation of 13 stars. Her flowing hair drapes elegantly over her shoulder, and a proud crown or coronet bears the raised inscription LIBERTY, while the date is positioned at the coin's lower portion. The inspiration for this portrait was drawn from a Greco-Roman sculpture that greatly influenced its designer, James Longacre. Turning to the reverse side, an eagle takes center stage with its wings gracefully outstretched. A prominent Union shield is proudly displayed on the eagle's chest. In its right talon, the eagle clutches an olive branch, while in its left talon, it securely holds a bundle of arrows. Above the eagle's head, an oval frame contains 13 stars, surrounded by an intricate pattern of rays. The coin's denomination is situated at the base, marked as TWENTY D. Flanking the shield, double scrolls symbolize Longacre's representation of the double eagle denomination. The left scroll bears the inscription E PLURIBUS in raised relief, while the right scroll features UNUM, also artistically rendered in relief. Type 1 Liberty Head Double Eagles were produced annually from 1850 to 1866, comprising a series that includes several rare specimens. Mint-state examples are consistently scarce, with the majority falling into the rare category, and a significant number considered very rare. Of particular note is the legendary status of the 1861 Paquet Reverse issue. During that year, Mint Engraver Anthony Paquet introduced notable alterations to the reverse design, including modifications to the lettering and the rim. Paquet's version featured elongated and slender letters, along with a significantly narrower border compared to the original Longacre rendition. Although artistically pleasing, these changes proved impractical, as the narrow rim failed to adequately protect the design from wear, resulting in premature die breakage. Consequently, the Mint Director swiftly ordered the reinstatement of the old reverse design, conveyed via telegram to the San Francisco Mint, directing them to cease using the new design. Only two specimens with the Paquet Reverse from the Philadelphia Mint are known to exist. Coins from the San Francisco Mint are occasionally available, with a mintage of 19,250 pieces before production was discontinued. Despite this figure, these coins remain highly sought-after double eagles, commanding greater value than one might anticipate.
A LITTLE STICKER MAKES A BIG DIFFERENCE.
Within each number of the coin grading scale is a small range of condition from low-end to high-end. Certified coins of the same grade can be of varying quality. Many of today's collectors want coins that are solid or premium quality for their assigned grade. CAC holds coins to a higher standard so you can be confident in the value of yours. We verify previously graded coins … and award our sticker only to those coins that meet the standard for today's selective buyer.
WHAT THE CAC STICKER MEANS:
Verified. Your coin has been verified as meeting the standard for strict quality within its grade.
Guaranteed. CAC stands behind our verification.
THE CAC STICKER IS BACKED BY EXPERIENCE.
CAC was founded by leading members of the numismatic community, including John Albanese, a respected authority on coin grading and the rare coin market.