1901 $10 Liberty NGC MS66 CAC


.
Blanchard prides itself on sourcing the highest quality numismatics available anywhere. If there is a coin that you are searching for, contact us today. Learn more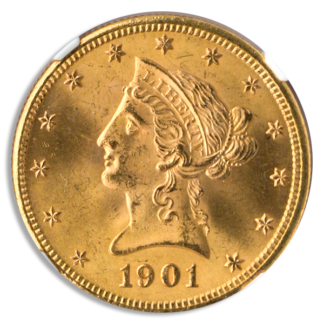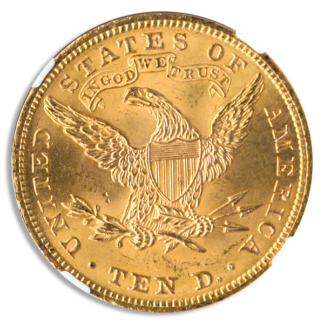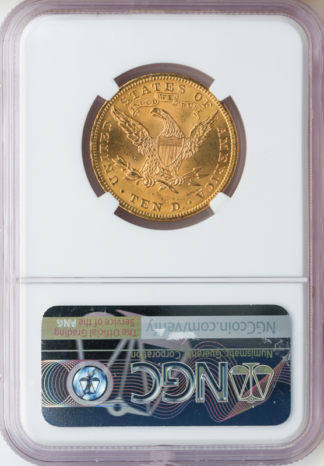 Back in the day, the U.S. currency system was based on the denominations: 10 cents, 1 dollar and 10 dollars.
Ten dollar coins were called Eagles, in honor of our national symbol and the others were fractional amounts of the Eagle. Logic would seem to lend credence to the idea that Eagles would have been minted first, cementing their place in both domestic and international economies. However, the Half Eagle was minted first, likely at the request of bankers. Half eagles came closest to the value of the most common foreign gold coins then circulating. Specifically, the half eagle matched up well with British guineas and sovereigns, French 24 livres and Brazilian 4,000 reis, as the difference in gold content among these is about 0.02 troy ounces.
Eagles were minted beginning in 1795 and went through a significant number of types before their final mintage. This type, minted from 1866-1907, has a scroll above the eagle with the motto IN GOD WE TRUST in relief. Except for the scroll, it is identical to the No Motto Type. This version has a more feminine Miss Liberty facing left wearing a coronet incused with LIBERTY. Her hair is in a bun tied with a string of pearls, below her is the date, and surrounding her are 13 stars. 
A LITTLE STICKER MAKES A BIG DIFFERENCE.
Within each number of the coin grading scale is a small range of condition from low-end to high-end. Certified coins of the same grade can be of varying quality. Many of today's collectors want coins that are solid or premium quality for their assigned grade. CAC holds coins to a higher standard so you can be confident in the value of yours. We verify previously graded coins … and award our sticker only to those coins that meet the standard for today's selective buyer.
WHAT THE CAC STICKER MEANS:
Verified. Your coin has been verified as meeting the standard for strict quality within its grade.
Guaranteed. CAC stands behind our verification by making markets in most actively traded coins.
THE CAC STICKER IS BACKED BY EXPERIENCE.
CAC was founded by leading members of the numismatic community, including John Albanese, a respected authority on coin grading and the rare coin market.