1904-S Morgan $1 Silver Coin PCGS MS65 CAC


.
Blanchard prides itself on sourcing the highest quality numismatics available anywhere. If there is a coin that you are searching for, contact us today. Learn more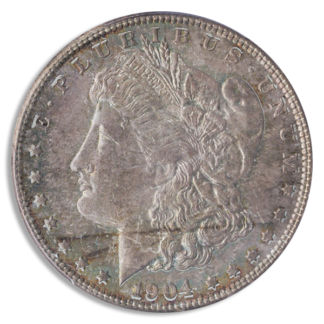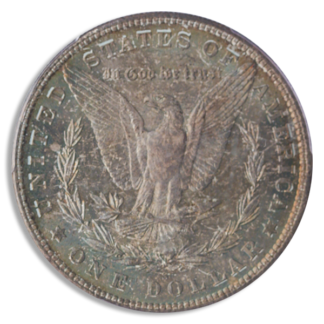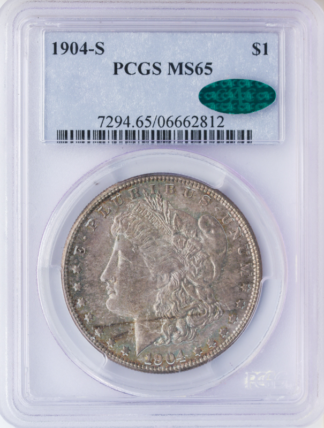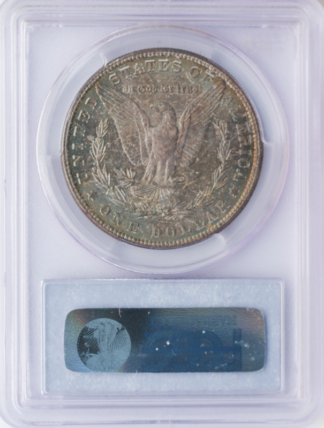 This fine Morgan $1 was minted in San Francisco in 1904 and is PCGS graded MS65, along with the CAC sticker.
Morgan Dollars were originally minted from 1878 to 1904, and then again in 1921. They were struck by the United States Mint after the largest silver discovery in United States history: the Comstock Lode. Shortly after this discovery, the U.S. Congress passed the Bland-Allison Act, requiring the purchase of this silver for mass production of coinage.
The obverse features Lady Liberty wearing a headband labeled LIBERTY. Her curls fall loosely from a twist at the nape of her neck. She is surrounded by 13 stars representing the original colonies. The year of issue appears at the bottom.
The reverse of each Morgan Dollar features an American Eagle with the words UNITED STATES OF AMERICA at the top. It is also engraved with the motto IN GOD WE TRUST and the coin's denomination.
A LITTLE STICKER MAKES A BIG DIFFERENCE.
Within each number of the coin grading scale is a small range of condition from low-end to high-end. Certified coins of the same grade can be of varying quality. Many of today's collectors want coins that are solid or premium quality for their assigned grade. CAC holds coins to a higher standard so you can be confident in the value of yours. We verify previously graded coins … and award our sticker only to those coins that meet the standard for today's selective buyer.
WHAT THE CAC STICKER MEANS:
Verified. Your coin has been verified as meeting the standard for strict quality within its grade.
Guaranteed. CAC stands behind our verification by making markets in most actively traded coins.
THE CAC STICKER IS BACKED BY EXPERIENCE.
CAC was founded by leading members of the numismatic community, including John Albanese, a respected authority on coin grading and the rare coin market.