1907 No Motto $10 Indian NGC MS65


.
Blanchard prides itself on sourcing the highest quality numismatics available anywhere. If there is a coin that you are searching for, contact us today. Learn more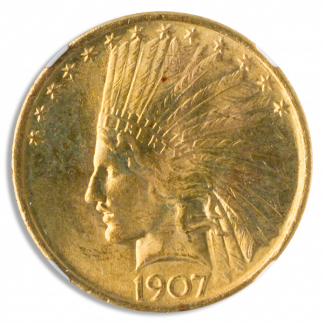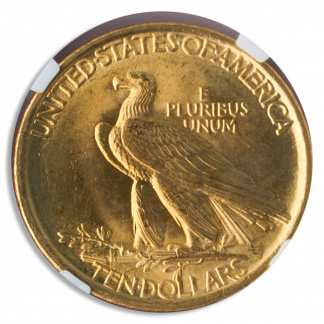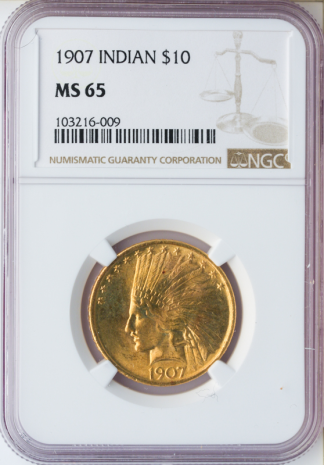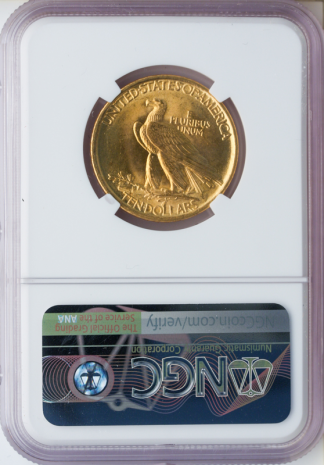 Originally, Augustus Saint-Gaudens had intended to use this obverse design on the Double Eagle but President Roosevelt felt it was much better suited to the Eagle. Saint-Gaudens wasn't initially fond of the idea of adding a headdress to Lady Liberty but, again, Roosevelt disagreed. He felt that this design really identified our nation's character.
What resulted was one of the most stunning designs to ever come out of the U.S. Mint, and further cemented the exceptional collaboration that took place between Roosevelt and Saint-Gaudens.
Miss Liberty facing left wearing an American Indian headdress. Above her are 13 stars aligned along the edge, and below her is the date. The band of the headdress has LIBERTY in relief. The reverse has an eagle with folded wings standing on a bundle of arrows, around which is a branch of olive. The denomination is placed at the bottom, the motto appears above the eagle's left shoulder, and UNITED STATES OF AMERICA arcs across the top edge of the coin. The edge of the coin has 46 stars in relief, reflecting the then 46 states making up the United States of America.