1932 $10 Indian NGC MS65 CAC
Price
Call for price --

1-800-880-4653


.
Blanchard prides itself on sourcing the highest quality numismatics available anywhere. If there is a coin that you are searching for, contact us today. Learn more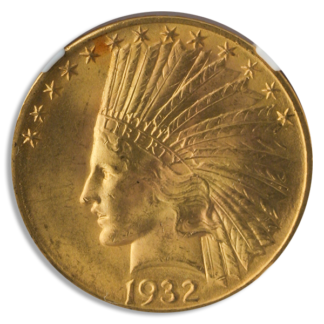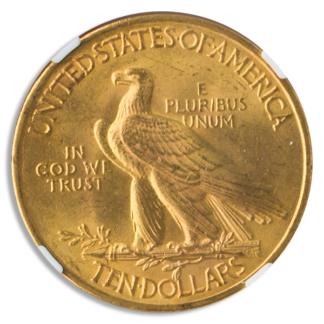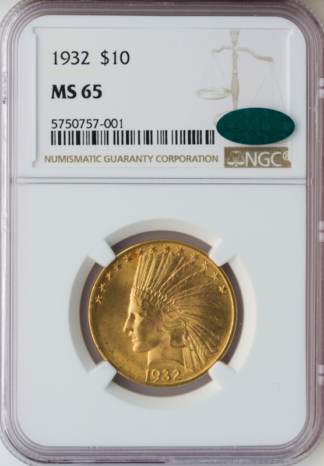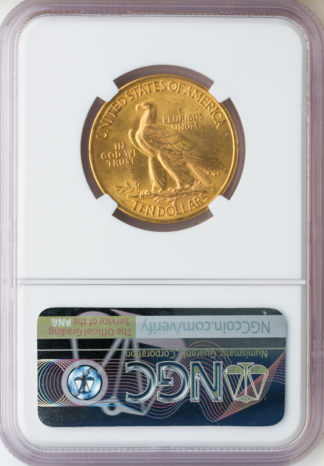 Originally, Augustus Saint-Gaudens had intended to use this obverse design on the Double Eagle but President Roosevelt felt it was much better suited to the Eagle. Saint-Gaudens wasn't initially fond of the idea of adding a headdress to Lady Liberty but, again, Roosevelt disagreed. He felt that this design really identified our nation's character.
What resulted was one of the most stunning designs to ever come out of the U.S. Mint, and further cemented the exceptional collaboration that took place between Roosevelt and Saint-Gaudens.
In this version of the coin, the motto IN GOD WE TRUST is on the coin, as mandated by the Act of March 3, 1865. The motto was added to the reverse, above the eagle's left shoulder.
A LITTLE STICKER MAKES A BIG DIFFERENCE.
Within each number of the coin grading scale is a small range of condition from low-end to high-end. Certified coins of the same grade can be of varying quality. Many of today's collectors want coins that are solid or premium quality for their assigned grade. CAC holds coins to a higher standard so you can be confident in the value of yours. We verify previously graded coins … and award our sticker only to those coins that meet the standard for today's selective buyer.
WHAT THE CAC STICKER MEANS:
Verified. Your coin has been verified as meeting the standard for strict quality within its grade.
Guaranteed. CAC stands behind our verification by making markets in most actively traded coins.
THE CAC STICKER IS BACKED BY EXPERIENCE.
CAC was founded by leading members of the numismatic community, including John Albanese, a respected authority on coin grading and the rare coin market.