1936 Norfolk Virginia Silver Commemorative PCGS MS67 CAC


.
Blanchard prides itself on sourcing the highest quality numismatics available anywhere. If there is a coin that you are searching for, contact us today. Learn more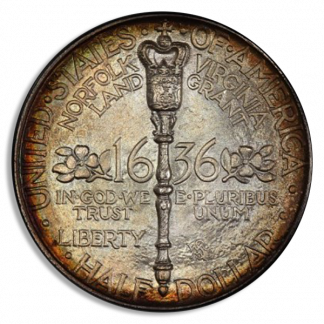 Image is representative.
To celebrate the 200
th
anniversary of Norfolk, Virginia's growth from a township first formed in 1682 to a royal borough in 1736 – an exciting commemorative silver half dollar was struck – the 1936 Norfolk Virginia Bicentennial. A husband and wife team – William and Marjorie Simpson created the elaborate design for the Norfolk Bicentennial silver half dollar which honors the city's seaport heritage. It might be one of the most complex designs you've ever seen on a coin. The obverse of this robust coin features a sailing ship placed atop stylized waves and above a plow and three bundles of wheat. A Latin legend is shown above the ship: ET TERRA ET MARE DIVITIAE, which is translated as "Both by Land and by Sea the Riches are." The coin lists a number of key dates in this cities rich history including the anniversary date of 1936. Lovely scallop shells surround the date on the bottom The reverse of the Norfolk half dollar reveal a striking Royal Mace and includes the date of the original land grant and the coin's value HALF DOLLAR, as well as the legends found on many U.S. coins including IN GOD WE TRUST, E PLURBIUS UNION and LIBERTY. A total of 16,936 Norfolk bicentennial half dollars were distributed. While this coin is dated 1936, it was actually struck in September of 1937 at the Philadelphia mint.
A LITTLE STICKER MAKES A BIG DIFFERENCE.
Within each number of the coin grading scale is a small range of condition from low-end to high-end. Certified coins of the same grade can be of varying quality. Many of today's collectors want coins that are solid or premium quality for their assigned grade. CAC holds coins to a higher standard so you can be confident in the value of yours. We verify previously graded coins … and award our sticker only to those coins that meet the standard for today's selective buyer.
WHAT THE CAC STICKER MEANS:
Verified. Your coin has been verified as meeting the standard for strict quality within its grade.
Guaranteed. CAC stands behind our verification by making markets in most actively traded coins.
THE CAC STICKER IS BACKED BY EXPERIENCE.
CAC was founded by leading members of the numismatic community, including John Albanese, a respected authority on coin grading and the rare coin market.