1940 Walking Liberty Half Dollar NGC PR66
Price
Call for price --

1-800-880-4653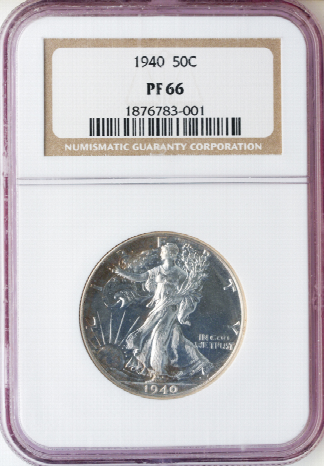 The Walking Liberty Half Dollar is a treasure of American numismatics that expresses the finest of our ideals: an unwavering belief in liberty.
This Walking Liberty silver half dollar is the work of renowned designer and sculptor Adolph A. Weinman, and was called "one of the greatest coins of the United States—if not of the world" by art historian and numismatist Cornelius Clarkson Vermeule III.
Does the coin live up to this superlative praise? We say yes. This tour-de-force design is one of exquisite beauty, grace, and balance.
A bald eagle dominates the reverse. Perched atop a mountain crag, his wings unfolded, he shows a stern profile as he looks to his right. A pine sapling springs from a rock—a nod to the pine tree as a symbol of our nation's fierce independence since the Pine Tree Flag flew over New England during the colonial and revolutionary eras.
On the obverse appears the now-iconic Walking Liberty, whose figure just recently appeared on a gold centennial issued by the mint. The full-length figure of Liberty strides confidently toward the rising sun, the folds of the Stars and Stripes billowing behind her. Her right arm outstretched before her in an open, generous gesture, her left arm carries branches of laurel and oak, symbolizing America's civil and military glory. The inscriptions show the date, "LIBERTY," and "IN GOD WE TRUST."