$2 1/2 Indian Jewelry (Dates/Types Vary)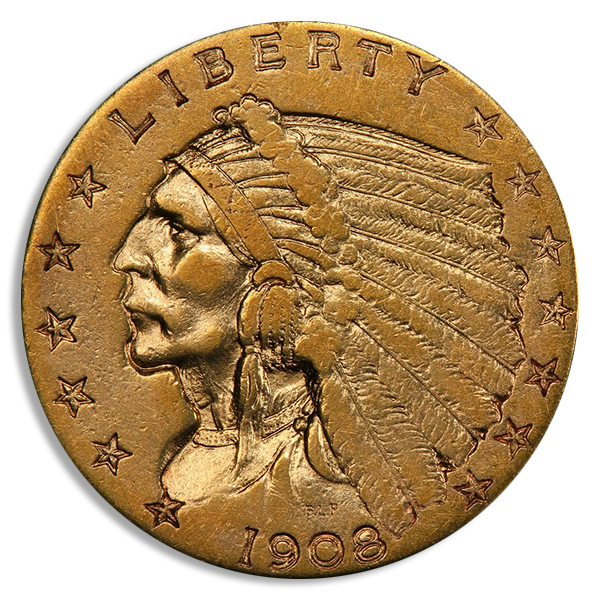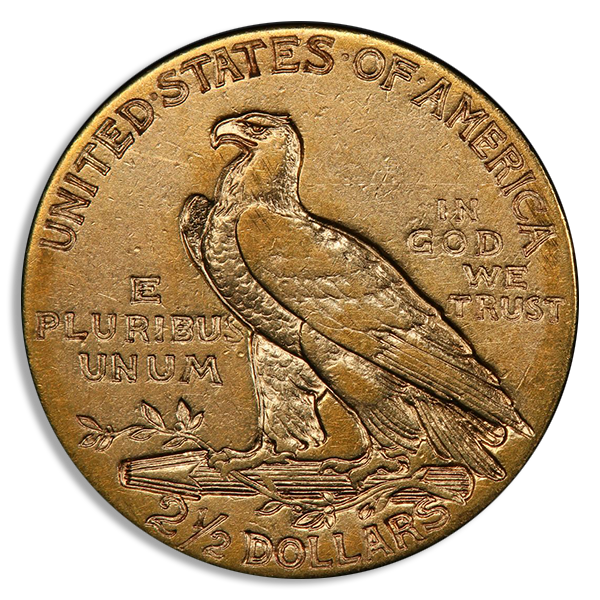 This design features a Native American Indian facing left wearing a feathered headdress. The date is at bottom, LIBERTY is at the top, six stars are along the left edge, and seven stars line the right edge. The reverse depicts an eagle at rest standing on a bundle of arrows with an olive branch wrapping around them. To the left of the eagle is E PLURIBUS UNUM and to its right is the motto IN GOD WE TRUST. The denomination is at the bottom. Along the edge UNITED STATES OF AMERICA arcs across the top half of the coin.
President Roosevelt wanted American coins to be among the finest in the world. He enlisted one of the nation's foremost sculptors to bring this vision to life, the result being the new, beautiful Saint-Gaudens Eagle and Double Eagle. Next to be redesigned were the quarter eagle and half eagle. Mediocrity would not suffice. Roosevelt knew that the Mint's Chief Engraver, Charles Barber, could never create anything beyond the banal, and would also be a hindrance to any outside engraver invited to the Mint. Working secretly through a personal friend, Roosevelt had sculptor Bela Lyon Pratt prepare models for the new quarter eagle and half eagle. Roosevelt loved the results, and ordered the Mint to strike coins as soon as possible. True to his nature, the jealous Charles Barber held up production for months, claiming the design needed modifications before strikings could begin. His tinkering served only to lessen the artistic qualities of the coin, yet even Barber could not destroy the beauty inherent in Pratt's creation. Although not universally accepted in its day, the Indian Head Quarter Eagle is considered to be one of the most beautiful coins America has ever produced. Incused coins have the design elements below the surface, and it was this characteristic that attracted most of the complaints. Critics went so far as to suggest the recessed areas would accumulate dirt and germs, thus making the coins vehicles to spread disease. This belief was nonsense and was ignored. Others felt neither the Indian nor the eagle was properly depicted. This objection had some merit, and was wholly the fault of Barber's changes to the original designs.
Indian Head Quarter Eagles, the last quarter eagles to be minted, are collected by Type as well as by date and mintmark. A major attraction to building a date set is the lack of any major rarities to sap the budget; only the 1911-D can be considered truly rare. However, a complete date and mintmark set is reasonably affordable if the collector selects the 1911-D in a lower, circulated grade.