2021(S) 1 oz American Silver Eagle MS 70 Emergency Release NGC (Types Vary)


In stock, ships in 30+ days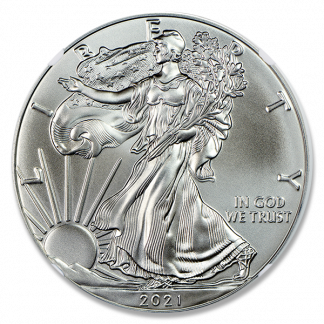 The COVID-19 pandemic left no market or industry unscathed, and precious metals were no exception. As is usual during times of uncertainty, gold and silver bullion popularity exploded as investors looked to ways to diversify their portfolios and protect their wealth and investments.
Because the demand significantly outpaced supply and because the West Point Mint  (typically the main producer of Silver American Eagles) had to temporarily close, the San Francisco and Philadelphia Mints each produced 1 oz. Silver American Eagles. Known as an Emergency Production, these coins helped get silver bullion into the hands of investors clamoring for them.
Mintage was limited, meaning these MS70 Emergency Release American Silver Eagles are quickly being snapped up by investors and collectors. Adding to their appeal is the fact that this is one of the last productions that include the original reverse design by John Mercanti. Beginning mid-2021, American Silver Eagles will feature an all new reverse design. The obverse design will remain the same.