2023 1 oz. Gold Buffalo (BU)
Credit / PayPal / Venmo
$2,235.90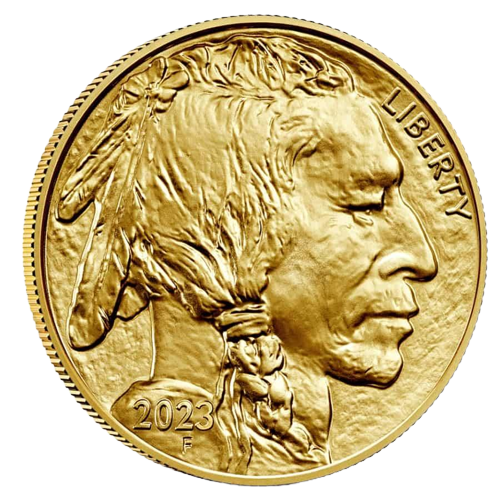 Introduction
The 2023 1 oz. Gold Buffalo stands as a revered and prestigious choice for both collectors and investors seeking a piece of American history and exceptional craftsmanship. Struck with one troy ounce of 24-karat gold, this coin showcases the unwavering commitment to purity and quality of the United States Mint. With its timeless design and unparalleled beauty, the 2023 1 oz. Gold Buffalo exemplifies a valuable addition to any precious metal's portfolio, blending artistic excellence with tangible investment appeal.
History
The history of the 2023 1 oz. Gold Buffalo can be traced back to its introduction in 2006 by the United States Mint. Inspired by the historic Buffalo Nickel designed by James Earle Fraser, it was the first 24-karat gold bullion ever struck by the U.S. Mint. It quickly gained popularity among collectors and investors for its exquisite design and high gold purity. These designs pay homage to the rich heritage and natural beauty of the American West. The 2023 edition continues this legacy, maintaining the same captivating imagery that has made the Gold Buffalo a highly sought-after coin. Over the years, the 1 oz. Gold Buffalo has become a symbol of American ingenuity, artistic excellence, and a tangible representation of the nation's history and natural heritage.
Design
The design of the 2023 1 oz. Gold Buffalo showcases a timeless tribute to the American West with its striking imagery and meticulous craftsmanship. On the obverse side, a commanding profile of a Native American chief captures the viewer's attention, paying homage to the rich cultural heritage of the indigenous peoples. The intricate details of the headdress and facial features convey a sense of strength and wisdom. On the reverse, a majestic American bison takes center stage, standing against a backdrop of finely engraved details. The bison's powerful presence exudes a sense of untamed wilderness and resilience, symbolizing the spirit of the American frontier. The overall design is a masterful blend of artistry and symbolism, making the 2023 1 oz. Gold Buffalo an esteemed collector's item and an exceptional investment in the beauty and legacy of the United States.