2023-P Peace Dollar CAC Graded MS69 First Day


.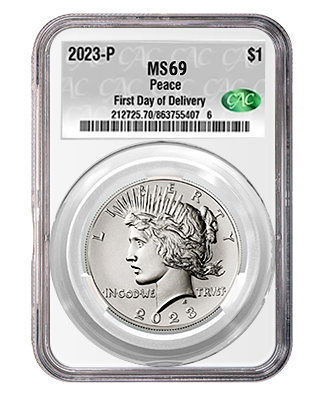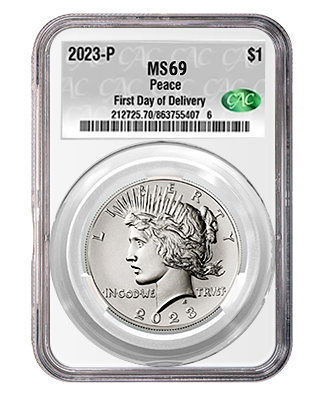 Introduction
The 2023 Peace Uncirculated Silver Dollar, graded as Mint State 69 (MS69) and bearing a CAC (Certified Acceptance Corporation) designation, is minted at the Philadelphia Mint and are minted with .999 silver. This coin, released on its first day of production, displays an exquisite uncirculated finish. A maximum of 275,000 coins are produced for each edition.
History
The Silver Peace Dollar was minted in the United States from 1921 to 1928, and again in 1934 and 1935. It was created as a commemorative coin to celebrate the end of World War I and to symbolize peace and unity.  The Silver Peace Dollar holds a special place in American history, not only for its symbolic significance but also as a tangible reminder of the country's efforts to commemorate peace after the devastating events of World War I. Today, these beautiful coins are highly sought after by collectors and investors alike, and they continue to be treasured as valuable artifacts of American numismatic heritage.
Design
The 2023 versions of the Peace Silver Dollars showcase the Goddess of Liberty on the obverse and a striking bald eagle holding an olive branch on the reverse side. These coins are skillfully designed by Anthony de Francisci and pay homage to the rich history and artistic prowess of American numismatic heritage.
A LITTLE STICKER MAKES A BIG DIFFERENCE.
Within each number of the coin grading scale is a small range of condition from low-end to high-end. Certified coins of the same grade can be of varying quality. Many of today's collectors want coins that are solid or premium quality for their assigned grade. CAC holds coins to a higher standard so you can be confident in the value of yours. We verify previously graded coins … and award our sticker only to those coins that meet the standard for today's selective buyer.
WHAT THE CAC STICKER MEANS:
Verified. Your coin has been verified as meeting the standard for strict quality within its grade.
Guaranteed. CAC stands behind our verification.
THE CAC STICKER IS BACKED BY EXPERIENCE.
CAC was founded by leading members of the numismatic community, including John Albanese, a respected authority on coin grading and the rare coin market.