Byzantine Empire Nicephorus Christ Nomisma Cupped NGC XF
Price
Call for price --

1-800-880-4653


.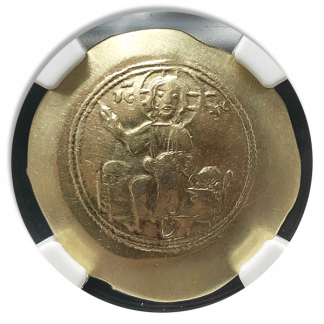 The history of rare coins through the ages is rich and varied. No where is this more apparent than in coins highlighted in the Bible. With this Nicephorus III Christ Nomisma, numismatic and world history join hands to tell the greatest story of our time.
This concave gold coin was minted under the rule of Emperor Nicephorus III, who reigned from 1078 until his death in 1081. The gold Nomisma was the standard currency during the Byzantine era and every Byzantine emperor minted their own coins. One Nomisma could have purchased a pig, three were required for a donkey and, for fifteen Nomisma, one could even buy a camel.
Originally produced with solid gold, the currency was often debased in order to fund wars, build a palace or purchase land. 
This Nomisma features the image of Christ, sitting upon a throne with his right hand raised in benediction.