How many people can say they have a 2,400-year-old work of art in their collection?
To invest in our Athenian Owls, act quickly by purchasing online or calling us at 888-782-6405.
The Owl of Athena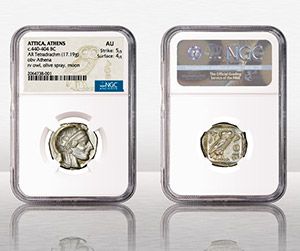 Athenian Owl NGC AU
This coin financed wars.
It paid for the war fleet that repelled the Persians.
It funded the Parthenon and the festival of Dionysus, source of so many famous comedies and tragedies—and where countless philosophers debated the great issues.
In short, this one small coin helped fund one of the cradles of Western civilization: Athens.
Imagine holding this coin in your hand. Who held it 2,400 years ago? What cares and joys occupied the mind of that ancient Athenian? Probably many that occupy you today: friends, family, faith, the future.
When you invest in this coin, you join the ranks of the citizens of ancient Athens—and that of President Theodore Roosevelt, who is said to have kept this coin as a pocket piece. The coin was likely his inspiration to approach Augustus Saint-Gaudens to redesign American coinage so it would be as beautiful as that of the ancient Greeks. This resulted in the most beautiful American coin of all time: the Saint-Gaudens Double Eagle.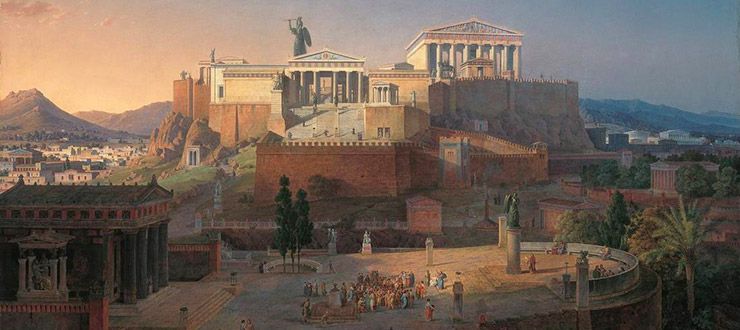 The Acropolis at Athens (1846) by Leo von Klenze.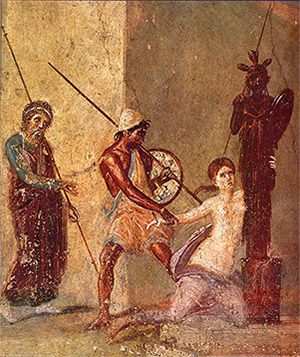 Roman fresco from Pompeii showing Ajax the Lesser dragging Cassandra away from the palladion during the fall of Troy, an event which invoked Athena's wrath against the Greek armies
The Athenian Owl is celebrated in ancient numismatics as the first coin with a full design on both the obverse and reverse. In fact, the phrase "heads or tails" comes from this coin, because it has a head on the obverse and an owl (with tail) on the reverse.
On the obverse, you see the head of Athena, goddess of wisdom and warfare and patron goddess of Athens. A daughter of Zeus, the powerful Athena was described in ancient Greece as "flashing eyed," owl-like as she sat above the world, watching all below her and waiting to swoop down and intervene in the affairs of men—at her discretion. On this coin, you see her in profile, one of her piercing almond eyes gazing forward into the distance. Her crested war helmet attests to her power.
On the reverse, you see Athena's mascot: the owl, whose form she sometimes took. The inscription "AOE" stands for ΑOΕΝΑΙΟΝ, meaning "of the Athenians." The owl has two large eyes—and like Athena, it sits perched above us, all-seeing. Above the owl is an olive sprig, referring to the olive oil that Athens exported and also symbolizing peace. A crescent shape, likely the moon, shows behind it.
Each of these details jumps out from the coin's surface due to the coin's nearly three-dimensional high relief. Compared to a modern U.S. quarter, the Athenian Owl is like a miniature sculpture.
Ancient Athenian Artisans Crafted This Coin by Hand
Each and every Athenian Owl was handmade. An ancient Athenian craftsperson—2,400 years ago—swung a hammer down on the coin dies that shaped the coin you can buy today. That means that no two Athenian Owls are alike, even if they were struck from the same dies.
Every single one is original and unique to your collection.
Not only that, but as of May 2018, NGC has only graded 2,111 Athenian Owls of the type we offer you today.
Gold Athenian Owls are exceedingly rare, and only two or three have ever been available to private collectors. So, we're pleased to offer you silver Athenian Owls—high-grade examples of the design that would bring over $1 million today in gold.
2,400 Years Old, But Like They Were Minted Yesterday
When you think that over two millennia have passed since these coins were struck, it's miraculous that they not only survived, but also survived in the AU and Choice AU grades we currently have available.
The Athenian Owl is a flower of Western civilization. And just as we have inherited the art, history, and culture of ancient Greece, our children will inherit the gifts we leave behind for them.
Let this be your gift to your family: your wealth protected via a coin that collectors have pursued for millennia. A piece of ancient history. A beautiful work of classical Greek art.
How many people can say they have a 2,400-year-old work of art in their collection?
To invest in our Athenian Owls, act quickly by purchasing online or calling us at 888-782-6405.