S.S. Central America – 1857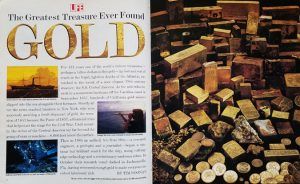 Life Magazine, March 1992
S.S. Central America Shipwreck Coins for Sale
Your opportunity to own a rare piece of history is here. Get your share of the gold recovered from the S.S. Central America that Life Magazine calls the "…greatest treasure ever found."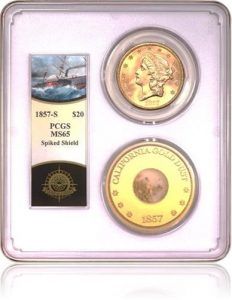 1857-S $20 Liberty PCGS MS65
Own a stunning piece of American history to be treasured for years to come.
Over one hundred sixty years after they were struck, these coins still boast sculptured details, golden luster and bold, full strikes that will make them desired by collectors around the world.
Each of these coins also includes a special "pinch of gold".
Don't miss this limited time, limited quantity opportunity.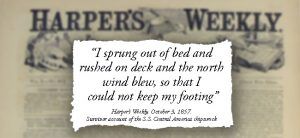 Survivor's account in Harper's Weekly, October 3, 1857
They traveled to California to make their fortunes. They lost more than that at the bottom of the sea.
All through the night, the water rose. The passengers and crew fought their best. They bailed water all night. But the hurricane reigned supreme.
Eventually, the captain fired his final rocket, signaling that the ship would soon go down. And go down it did, engulfed moments later by the relentless waves.
That tragic September night, the S.S. Central America sank to the ocean floor, along with 425 people … not to be seen again for 130 years.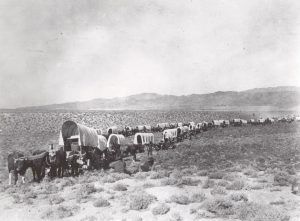 Covered wagon train, circa early 1850s
The Ship of Gold Plies the Seas
In the mid-nineteenth century, the siren song of gold called from California to every corner of the country. Across the country, people sold their possessions, borrowed money, and spent their savings to get themselves to the promised land. And when they set out, they faced perilous journeys: overland across mountain ranges or by sea around Cape Horn in South America.
Just as dangerous was the trip back, carrying gold to the East Coast. One ship that regularly made that journey was the S.S.Central America, a 280-foot, wooden-hulled steamer that operated continuously on the Atlantic leg, from Panama to New York, of the route.
When the S.S. Central America sank, its loss was felt around the world. The shipwreck was as famous as the Titanic in the twentieth century. And the loss of the ship's wealth contributed to the Panic of 1857, a depression felt around the world.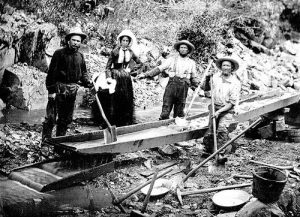 Prospectors working California gold placer deposits, circa 1850
$300,000,000 Sinks to the Ocean Floor
In all, the treasure that sank was worth $2 million in 1857, or $300 million today. In 1988, a team using a remotely operated vehicle discovered the ship 160 miles off the coast at a depth of 7,200 feet. Gold estimated to be worth $100 million to $150 million was recovered.
And what a treasure trove it was: not just coins, but an 80-pound gold bar nicknamed Eureka and sold to a private collector for $8 million. A first batch of coins was made available in the early 2000's and consisted mostly of 1856-S and 1857-S $20 Liberty coins.
A second batch of coins is now available, and these have been painstakingly restored by hand using sable-hair brushes and a non-acidic sodium salt bath. The coins are being graded by senior graders at PCGS and encapsulated in sonically sealed, virtually airtight and watertight holders. Each of these coins also includes a special "pinch of gold."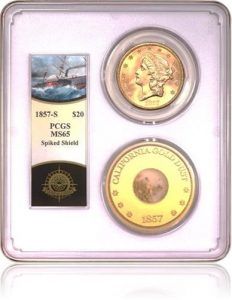 1857-S $20 Liberty PCGS MS65
With a century of muck removed, these shipwreck gold coins gleam brightly, showing their features in all their beauty. David Hall, founder of PCGS, calls the S.S. Central America "one of the greatest treasures in United States numismatic history."
Join an Elite Circle of Investors
Coins recovered from shipwrecks are renowned for several qualities. First, they are rare; of the thousands of ships that have sunk, few are recovered and far fewer have viable coins aboard. Second, shipwreck coins are rare historical artifacts—a glimpse into America's past. And finally, many shipwreck coins have retained their details, luster, and full strikes, making them prized by collectors.
When you own an SS Central America coin, you own a coin from one of the most famous shipwrecks in all of American history. And you own a coin that until recently was literally out of reach—to anyone.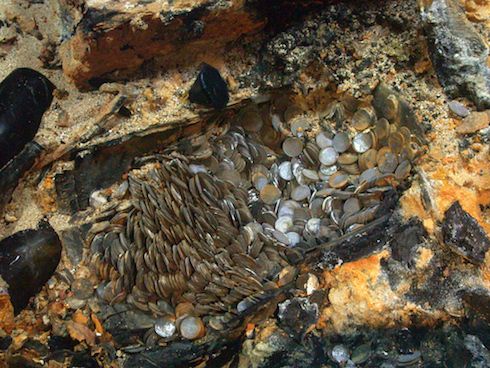 Gold coins on the ocean floor
Over a century at the bottom of the sea… now this gold can be yours.
The tale of the S.S. Central America sounds like the stuff of movies – a ship loaded with more than two tons of gold dust, nuggets, coins and ingots from the California Gold Rush and over 500 passengers encounters a Category 2 hurricane en route to New York from Panama and sinks to a watery grave.
Fewer than half of the passengers, many of whom were prospectors headed back east after having made their fortunes, survived. The loss of this fabulous treasure trove of gold set off the Panic of 1857, as well as a deep depression. Nestled on the ocean's bottom off the coast of the Carolinas, the gold was presumed lost forever.
Between the rich accompanying narrative and the inestimable value of the contents, it is inarguable that the bounty from the S.S. Central America represents one of the most important recoveries of our time. Each coin is an unforgettable relic from our colorful American past, a national treasure available to a select few.