4 Reasons It's a Great Time to Buy Silver Coins
Posted on
— 1 Comment
It's a great time to buy silver bullion. Silver gained about 6% in 2017, while the more expensive gold climbed about 12% last year. If you've been considering investing in gold or silver bullion, here's four reasons why you should scoop up some silver right now.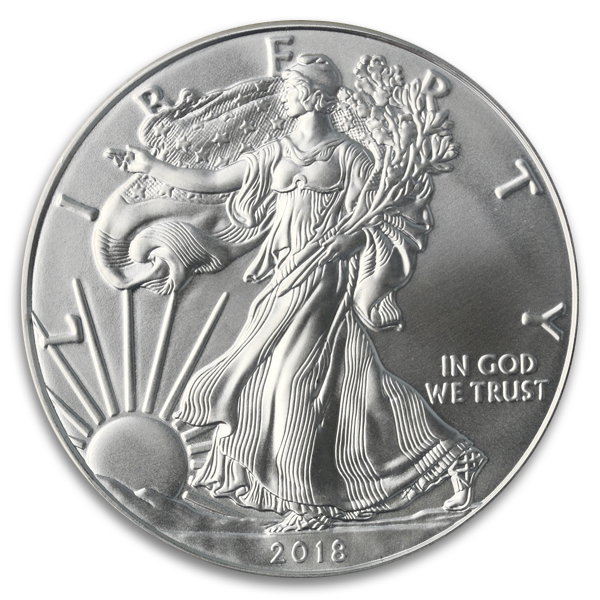 Industrial Demand is Forecast to Grow for Silver in 2018
Silver benefits from both investment and industrial demand. Among metals, silver boasts one of the highest levels of electrical conductivity. Silver is used across a diverse range of industries from automotive to medical devices to solar panel applications. "We expect the growth to continue this year and set another record for silver demand, driven by large scale solar capacity additions and continued strong demand uptake from individual households, particularly in China," the Silver Institute said. Growing demand pushes prices higher. That means current levels of silver around $17.44 an ounce offer an attractive entry point for investors.
From Rings to Bracelets to Necklaces, Consumers Love Silver Jewelry
About one-fifth of total global silver demand emerges from the jewelry sector. Silver jewelry demand grew about 1% in 2017 as consumers favor the neutral color and as a reasonably priced alternative to gold. Jewelry demand is forecast to rise by 4% in 2018. Again, more demand equals higher prices.
Global Silver Mine Supply Is Falling
While demand for silver is growing from the industrial and jewelry sectors, global mine supply is contracting. Global silver mine supply fell 1% in 2016, shrinking for the first time in 14 years. That trend continued in 2017, as global mine supply fell another 2%. What about 2018?
"Production disruptions out of South America, along with a decline in capital expenditure among the primary producers in the past five years, is expected to constrain output again this year," the Silver Institute said. Shrinking supply, alongside rising demand is a recipe for higher silver prices ahead. Don't delay your investment plans. Current prices of around $17.44 an ounce could be the lowest price investors will see all year for silver.
The Gold/Silver Ratio Is Flashing A Silver Buy Signal
The gold/silver ratio is about 79 currently.
How is that calculated and what does it mean?
You can easily calculate the gold/silver ratio yourself by dividing the current price of gold by the current price of silver.
The ratio shows the number of ounces of silver needed to buy one ounce of gold. Investors have long turned to this ratio to identify attractive long-term entry points for precious metals purchases. A high ratio is generally viewed as a signal that silver is undervalued relative to gold. That is what we are seeing now.
The latest 79 reading is historically high, which means silver prices right now offers investors long-term value. Historically, this is what we've seen:
                        Gold/silver ratio 65 > or greater means silver is a relative bargain
                        Gold/silver ratio 50 < or lower means gold is a relative bargain
Getting Started
Silver bars offer investors an easy way to accumulate physical silver. For example, a 10 ounce silver bar currently is quoted at $184.63 (prices fluctuate daily).
Silver offers investors many of the same portfolio diversification benefits of gold, at a much less expensive price. How much silver do you own?