What do Virgil Brand, Louis Eliasberg and Bob Simpson have in common?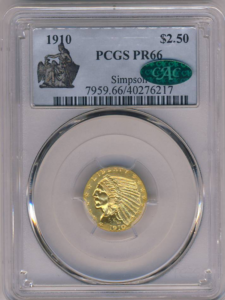 They each amassed some of the finest known numismatic collections in American history.
In case you are unfamiliar with him, Bob Simpson is co-chairman of the Texas Rangers baseball team, a philanthropist and a co-founder of XTO Energy, a natural gas firm acquired by ExxonMobile in 2010.
Simpson, now 73 years old, wasn't wealthy when he began collecting coins as a young boy.
While other kids his age were collecting baseball cards, he would go to the bank, get a roll of coins and look for interesting coins. He was searching for Mercury dimes – the most famous, the 1916-Ds, were still being found in bank rolls back then. He also kept an eye out for copper pennies and Walking Liberty half-dollars.
Recently, Simpson has been selling off portions of his legendary numismatic collection. He views himself as a steward of these remarkable rarities and said recently it is time for someone else to enjoy them.
"I think coins should be appreciated almost as artwork," Simpson told the Fort Worth Business press last month. "I have gotten more than enough joy from them."
Simpson's collection, which is legendary in coin collecting circles, contains remarkable rarities with a particular focus on U.S. patterns. He purchased several large pattern collections over a period of years, spending more than $36 million on a single pattern collection in 2007. Notably, Simpson was the first person to ever assemble a complete P-D-S set of bronze-planchet 1943 Lincoln cents. That includes a 1943-S bronze cent that he paid $1 million for in 2012.
Blanchard recently offered a proof 1910 Gold $2.5 Indian Head, which was part of Bob Simpson's incredible collection.
The $2.50 Gold Indian Head, or Quarter Eagle was minted at the Philadelphia Mint and only 682 proofs were struck in 1910.
You may already know the Gold Eagle was our country's first gold coin series. The base denomination of a Gold Eagle represents $10 and other issues are referred to as Double Eagles ($20), Half Eagles ($5), and these Indian Head Gold Quarter Eagle coins with a $2.50 face value.
After the Gold Eagle and Double Eagles were released into circulation in 1907, the U.S. Mint began planning the Quarter Eagle. The Indian Head Quarter Eagle was minted from 1908 through 1929.
The Quarter Eagle broke new ground in the coinage community as the design has no raised edge; instead the legends are presented in sunken relief below the surface of the coin. To this day, these pieces are the only U.S. circulating coins with recessed designs.
Boston sculptor Bela Lyon Pratt designed the visually stunning and unusual coin which features a portrait of a Native American Indian on the obverse, and an American bald eagle standing on a cluster of arrows with an olive branch wrapped around them on the reverse.
Simpson's views on coin collecting
In an interview this past winter, Simpson was asked if he viewed coin collecting as risky?
"I viewed it as the opposite, as a haven more than a risk asset," Simpson said.
Simpson admitted that his favorite coin is the "1920-S $10 gold piece, probably the finest $10 Indian piece in the world. It's in the set I'm going to keep. But, again, the price was painful. I learned a long time ago that the best usually comes at a price that hurts. And so, I would tell anybody, if you see the opportunity that's unique to you, it's probably going to hurt to buy it, but you'll never regret it."
"You can always get more money, but some of these opportunities, you can't produce another one. That's what I would share, that wisdom with potential buyers," Simpson told the magazine.
[Collector's question: What is a proof? A proof coin is one that is struck at least twice with specially prepared dies and planchets, and under higher-than-normal pressure to ensure a full, sharp strike. Proof coins are more scarce and tend to be more valuable than other rare coins, drawing special attention from investors and collectors.]
Want to read more? Subscribe to the Blanchard Newsletter and get our tales from the vault, our favorite stories from around the world and the latest tangible assets news delivered to your inbox weekly.