No doubt, you've been both comforted and confused by the strong rebound in the stock market in recent weeks. You aren't alone.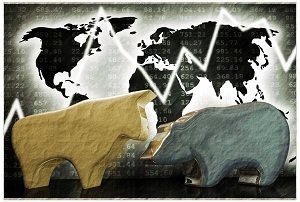 Speculators run the show these days.  And that only lasts so long before it falls apart. 
The Speculative Day Trading Mania of 2020
We are seeing a stock market mania and a bubble – while we are in a recession!
There is a reason for the massive disconnect in the stock market and the real economy.
Day traders.
Have you heard? A new crop of amateur traders have jumped onto the day trading bandwagon during the pandemic and helped drive the stock market up about 40% off its March low.
Ever since online brokerage firms moved to the $0 trading commission model back in October, new accounts opened by individual (retail) traders skyrocketed. The data backs this up.
The perfect storm
The Covid pandemic created a situation ripe for this new day trading mania.
Day trading surged in recent months as millions of Americans were deprived of their sports teams to watch (and bet on) and were stuck at home under shelter-in-place orders. The newly minted $0 trading fees lured thousands of new day traders into the stock market game.
Indeed, we have a recipe for a new speculative bubble. If you are remembering back to the Dot.com crash in 2000, you've got a good memory. Before it was over, the NASDAQ index crashed 78%.
The Robinhood traders
They call them the Robinhood traders, based off a new mobile phone trading app company that offers fractional shares. Sure, buy a piece of a stock for $1, $15 or whatever you've got.
In recent months, equity inflows are at seven times their pre-Covid levels, to nearly $3 billion a day, CNBC reported on June 11.
Warning: They have no idea what they are doing
This new breed of day traders is creating chaos in the stock market. Trading off apps on their cell phones. With no knowledge of markets, fundamentals, or valuations, these day traders are trading on whims, ticker symbols that sound familiar and have driven two companies in bankruptcy up over 300% in days.
Just a couple of weeks ago, an obscure Chinese online real estate company's American depository shares (ADSs) skyrocketed 1,250% intraday before closing 400% higher. The reason?
The company name – FANGDD Network – was similar to the acronym FAANG, which refers to the high-flying technology stocks: Facebook, Apple, Amazon, Netflix and Google.
Yep. The day traders jumped on the bandwagon and bought an obscure Chinese company because they mistakenly assumed by the ticker that it related to U.S. tech stocks.
The speculators are running the stock market show right now.
Hint. This won't end well.
Indeed, the recent 1,800 point sell-off in the Dow warned of what could lie ahead.
Retail investors are often called the "dumb" money, while institutional traders – Wall Street pros – are called the smart money.
What are smart money investors saying now?
The day trading boom pushed stock market euphoria to its highest levels in 18 years. Citi's research team warned in early June, that the bank's Panic/Euphoria model hit its highest euphoria reading since 2002. What does that imply? A 70% plus probability of a down market in the next 12 months, Citi's chief U.S. equity strategist said.
Rely on Gold
Now is the time for you to prepare your portfolio!
Take advantage of the safety, security and diversification properties of physical gold. Gold is already up 15% this year, with smart money investors forecasting new all-time highs within a year.
Gold is your safety net in all types of storms. This new speculative bubble in stocks is looming like a black cloud on the horizon. The bubble will burst. They always do. Take out an insurance policy now to protect your wealth now by increasing your allocation to physical gold. Remember the NASDAQ fell 78% from 2000-2002. You can prepare now for whatever lies ahead.