U.S. Bureau of the Mint Chief Engraver Charles E. Barber designed the famed Barber coinage which includes a dime, quarter and half dollar. And, Barber dimes were struck from 1892 through 1916.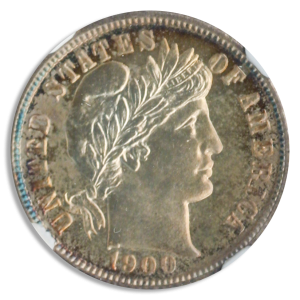 This beautiful silver coin features Lady Liberty facing right on the obverse. UNITED STATES OF AMERICA encircles her head. The date is found below Lady Liberty's bust. The dime's reverse reveals a delicate and ornate Laurel wreath wrapped around the coin's denomination: ONE DIME in the center.
There was no room for the motto IN GOD WE TRUST on the Barber dime. So, Barber left it off. Barber did find room to include the motto on the quarter and half dollar designs.
Another difference? One legendary numismatist wrote this about the Barber dime:
"It is not generally realized that the obverse design of the dime differs from that of the quarter and half dollar, in that the latter denominations have stars around the obverse periphery."
In 1900, the U.S. minted over 17 million Barber dimes at the Philadelphia Mint. Only 600 proofs were struck. Survival estimates of all grades of 1900 Barber dimes are less than 1,000. See this delightful 1900 Barber dime proof, with a smattering of orange-apricot iridescence sparkling at the rims here.
The rarest of all Barber dimes is the 1894-S Barber dime. The San Francisco mint struck only 24 of these dimes. Great mystery surrounds the 1894-S Barber dime – and no one really knows why so few were coined. As one story goes, San Francisco Mint Superintendent John Daggett struck the dimes for his banker friends, giving three to each. Daggett also gave three to his daughter Hallie. Less than a dozen 1894-S Barber dimes are known to survive and one was sold in 2013 for over $2 million.
The year 1900: looking back in time
In 1900, the U.S. Census estimated our country's population at 70 million. (Today, the U.S. is home to 332 million people).
In March 1900, Congress passed the Gold Standard Act, which established gold as the only standard for redeeming paper money.
In April, 1900 Hawaii became an official U.S. territory.
In October 1900, the Wright brothers started their manned glider test flights in Kitty Hawk, North Carolina.
In 1900, Milton S. Hershey introduced the milk chocolate Hershey bar.
You can see this great Barber Dime here.
Want to read more? Subscribe to the Blanchard Newsletter and get our tales from the vault, our favorite stories from around the world and the latest tangible assets news delivered to your inbox weekly.