Defining a Nation Through the Imagery of the Liberty Cap Half Cent
Posted on
— 1 Comment
The US Mint issued their first half cent coin starting in 1793. Minting continued until 1797 at the Philadelphia mint.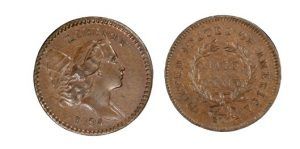 Henry Voigt, who served as the Chief Coiner of the first United States Mint, engraved the coin, however, experts are unclear on whether or not he designed the piece. Voigt's contribution to US currency is just one of his many ventures.
Voigt built steam engines, worked as a clock-maker, and even manufactured mathematical instruments. He was a close friend of Thomas Jefferson, who was a customer of Voigt's, frequently in need of watch repair.
He also contributed to the design and manufacturing of the first operational steam boat that served in a commercial capacity. Reflecting on Voigt's contribution, John Fitch, who also designed the commercial steamboat remarked, "He is a man most ready of mechanical improvements of any on earth, and I am persuaded that I never could have completed the steamboat without him."
His role at the US Mint began in 1791 and by 1793 he oversaw the minting of the Liberty Cap Half Cent. The original obverse design showed the bust of Liberty facing left with flowing hair. Behind her is a pole with a Liberty cap resting on top. Officials decided to reverse this design the following year. Starting in 1794, Liberty faced right and the Liberty pole and cap remained behind her, now on the left side.
The reverse features a wreath with "United States of America" in an arc around the center which reads "Half Cent."
While Voigt was likely the main contributor to the design, engraver Robert Scot was also involved and engraved the "Liberty Facing right" coin. He served as Chief Engraver at the US Mint from 1793 to 1823. His most famous work is the Draped Bust image which appears on many different US coins. The breadth of his work even expands beyond coinage.
Scot engraved rate stamp dies for every state. He also engraved more than 20 copperplate of various scientific illustrations for Thomas Dobson's 1788 publication (reprint) Natural Philosophy. Most notably, Scot engraved the Great Seal of the United States in 1782. Today, Scot's work is visible across nearly every branch of the government.
The Liberty Cap Half Cent is minted from pure copper. The rarest date of the series is 1796. The coin is an unusual opportunity to own part of the nation's history. The design represents the country's earliest attempts to define itself through imagery. It is also a reminder of the stark differences between living in the late 1700s and living today; the half cent value had relevance during a time when most working wages were $1 for a 10-hour day.
Want to read more? Subscribe to the Blanchard Newsletter and get our tales from the vault, our favorite stories from around the world and the latest tangible assets news delivered to your inbox weekly.