Fed On Collision Course With Recession
Posted on
— 1 Comment
Americans face rising prices, shortages of everyday goods, falling stock and bond prices and rising interest rates. Today, the Federal Reserve moved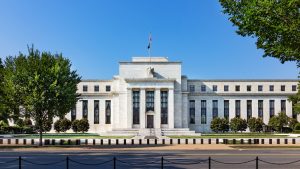 with it's fifth super-sized interest rate hike of the year to try to tamp down the scorching hot 40-year high inflation that is eroding your wealth.
The Fed hiked its benchmark rate by 0.75 basis points to 3 – 3.25%. Gold moved slightly higher with the news, which was largely expected and priced into the markets
The recent August inflation reading confirmed what economists have long feared – inflation is broad, sticky and still rising. That means the Federal Reserve must continue to aggressively hike interest rates this year – furthering weakening the economy, as the central bank tries to choke off consumer demand for goods and services.
Higher Fed interest rates are actually designed to slow down economic growth. Higher rates mean borrowing to buy a house, a car, or even a new washer or dryer is more expensive. The Fed is deliberately trying to slow the economy.
Can the Fed hit the brakes on economic growth to bring inflation down without triggering a recession? History is not on the central bank's side.
Yet, this bad economic dream is far from over.
Deutsche Bank economists recently said that a Fed interest rate near 5% could be needed to see meaningful improvement in inflation. Last week, billionaire investor and Bridgewater Associates Ray Dalio warned that a 4.5% fed funds rate could mean a 20% drop in equity prices.
Are you positioned for another big leg down in the stock market?
It is indeed enough to make you want to take a long nap, like our friend Rip Van Winkle, who slept for 20 years, according to the Washington Irving short story. We don't have the luxury of sleeping through this unprecedented economic period. Fortunately, there are actions you can take today to protect and preserve your wealth in these unsettled economic times and that includes increasing your allocation to gold.
Gold is a proven portfolio diversifier, hedge against inflation and asset that is non-correlated to the stock market. Increasing your allocation to physical gold today is a strategic method to protect your portfolio from further dislocation and declines as the Fed continues its aggressive interest rate hike campaign. If you'd like a personalized portfolio consultation to review your current portfolio and how gold ownership can help you achieve your long-term financial goals, call a Blanchard portfolio manager today.
Want to read more? Subscribe to the Blanchard Newsletter and get our tales from the vault, our favorite stories from around the world and the latest tangible assets news delivered to your inbox weekly.