Nearly two years after COVID-19 hit our shores, sending our nation into an economic tailspin, the Federal Reserve announced today it is dialing back on its emergency bond-buying program.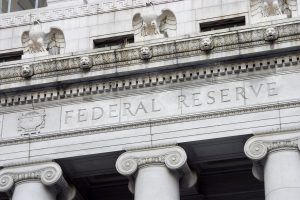 Wall Street expected today's announcement that the Fed would taper its monthly bond purchases. Gold registered little reaction to the news, recently trading at around $1,765 an ounce.
"In light of the substantial further progress the economy has made toward the Committee's goals since last December, the Committee decided to begin reducing the monthly pace of its net asset purchases by $10 billion for Treasury securities and $5 billion for agency mortgage-backed securities," the Fed said today. The Fed had been buying $120 billion in U.S. Treasury and mortgage-back securities each month since early in the COVID crisis.
The Fed kept its benchmark interest rate unchanged  – at the rock-bottom 0%-0.25% level.
The Fed weighed in on inflation today, too. Americans are confronting higher prices on a range of consumer goods and inflation hit a 30-year high this year.
While the Fed has been adamant that current inflation levels are "transitory," today's post-meeting statement qualified that by adding in that inflation is "expected to" be temporary.
Many other economists aren't so sure. Once inflation takes root in the economy, it can tighten its grip and spread, often ferociously.
"Our sense is that the inflation and price increases will get worse in the near term before they get better," Kathy Bostjancic, Chief U.S. Financial Economist at Oxford Economics told CBS News today.
For now, the Fed is willing to tolerate higher inflation in an attempt to move the economy back toward full employment. Will the gamble work?
If this roll of the dice fails to produce falling inflation in 2022, the Fed will be forced to raise interest rates sharply to contain inflation. That will spell trouble, and perhaps even a stock market crash and recession. The stakes are high.
In today's uncertain economic times, gold continues to offer investors a safe haven investment, an asset to hedge against recession and stock market volatility and also as a proven method to maintain your purchasing power in these historic inflationary times.
Want to read more? Subscribe to the Blanchard Newsletter and get our tales from the vault, our favorite stories from around the world and the latest tangible assets news delivered to your inbox weekly.