The Federal Reserve said today it plans to raise its benchmark interest rate at least three times in 2022, in an attempt to tame the big jump in consumer inflation that is spiraling throughout the economy.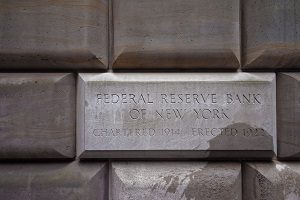 The Fed also sped up the pace of its "tapering" or reduced bond-buying spree by $30 billion per month and will end the program in March. The Fed has been buying bonds every month to support the economy after the COVID crisis.
Gold slumped on today's Fed news, as higher interest rates can be a slight negative factor for physical metals, which are non-interest bearing investments.
Yet, precious metals investors quickly stepped in and bought gold at Wednesday's low, trimming the weakness seen in both gold and silver.
After trading as low as $1,753.20 an ounce after the Fed meeting, gold has already climbed as high as $1,780.80 as investors used the quick retreat to buy – a $20 plus jump off its intraday low.
Why did gold investors buy the dip? Ultimately, many on Wall Street wonder if the Fed's action will be too little and too late.
The inflation genie has already been let out of the bottle. In fact, in November, the U.S. consumer price index hit 6.8%–its fastest pace in 39 years.
During inflationary times, investors turn to gold as a vehicle to hedge their assets and protect their purchasing power in times of rapidly rising prices, and that's what we saw today.
Currently, the official Fed funds rate stands at 0-0.25% which means that three Fed rate hikes would bring the short-term rates as high as 0.75-1.00%. That would still be extremely low interest rates by historical standards. Normal Fed funds rates range in the 3.5-4.5% region, so even a 1.00% Fed funds rate in 2022 would reflect extremely easy and loose Fed monetary policies.
Will those tiny rate increases have any meaningful impact on sizzling hot inflation? Only time will tell.
What we do know is that investors saw value in today's quick price retreat in gold. There's still time to buy gold below $1,800 an ounce. Have you considered if you need to increase your allocation to gold? It's an excellent time to buy.
Want to read more? Subscribe to the Blanchard Newsletter and get our tales from the vault, our favorite stories from around the world and the latest tangible assets news delivered to your inbox weekly.