The winds are changing.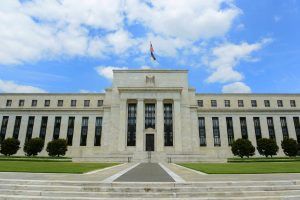 The big news out of Wednesday's Federal Reserve meeting?
Fewer interest rate hikes are expected in 2019.
Yes. That's right.
The Fed is almost done raising interest rates. And, that is positive for gold prices.
On Wednesday, the Fed did nudge interest rates higher by 25 basis points to 2.25-2.50%, a widely expected move.
The surprise twist at today's meeting were hints the Fed would only raise interest rates twice in 2019, not the previously expected three.
How did gold react? Gold Prices soared to a 5-month high on Wednesday, hitting $1,258.80 an ounce, ahead of the Fed meeting.
Gold rallied on Wednesday because day traders started pricing in expectations of the Fed's shifting gears. Signs of potential weakness in the economy later in 2019, alongside political pressure to stop raising interest rates are gold-positive.
Immediately following the Fed meeting, gold prices weakened in the classic "Buy the Rumor, Sell the Fact" type of trading action, as day traders took quick profits on the Fed's big news. But, that's just a short-lived pullback.
Bottom line? Wednesday's news is positive for gold.
Gold is heading higher in 2019. The economy is expected to slow more in 2019 than the Fed previously thought. One major Wall Street firm is already warning the Fed will cut interest rates 3 times in 2020 amid a quick downturn in the economy.
 
A new daily rising trend is developing for gold.
Gold is poised for a run to the $1,300-$1,325.
Gold price dips are buying opportunities.
Wednesday afternoon's gold price dip offers an excellent buying opportunity in the new uptrend that formed off the August low around $1,175.
After nearly 10 years of economic growth and stock market gains due to unprecedented fiscal stimulus, the wind is shifting. We are at a key turning point.
Don't ignore the economic winds. If you haven't fully diversified and protected your portfolio with tangible assets, act now.