Are you hitting the road this Fourth of July holiday? Here's a tip. Leave early. And, expect to pay more at the pump.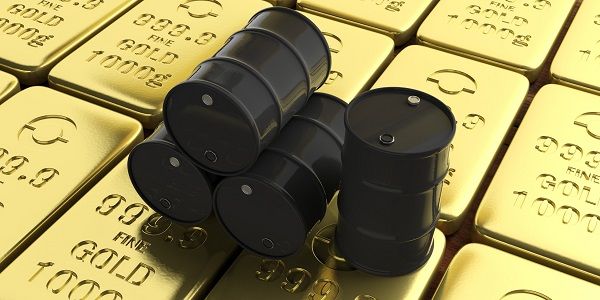 A record 46.9 million Americans are expected to travel 50 miles or more away from home over the Fourth of July holiday, AAA predicts. The Tuesday before the holiday is expected to be the busiest day on the road, with travel times in many U.S. cities twice as long as normal. Ouch.
Drivers may get an unpleasant surprise when they fill up their tank. Gas prices are expected to hit a 4-year high this Fourth of July, according to GasBuddy. The national average is expected to climb to $2.90 per gallon.
The price of a barrel of crude oil surged to nearly $75 last week, the highest since Nov. 2014. The trend for crude oil points higher and many Wall Street analysts are forecasting a quick move to the $80 per barrel zone.
That spells trouble for drivers, with even higher prices at the pump ahead.
What Does This Mean For Gold Investors?
There is a correlation between crude oil and the price of gold.
Rising crude oil prices are inflationary. There tends to be a spillover impact from rising oil prices to rising prices throughout the broader economy.
Gold typically climbs in inflationary environments as investors turn to the hard asset as a vehicle to preserve and protect their purchasing power.
Right now, there is a divergence between crude oil and gold. That's not normal. Gold has been falling in recent weeks, while crude oil has been climbing.
As crude oil picks up momentum and climbs to the $80 per barrel level, this will ignite inflationary concerns even more and may act as a lever to stall the recent price slide in gold.
The price of gold is falling toward a key technical chart support zone at the $1,250/$1,247 area. That area may act as a "hook" to stabilize the gold market, as inflation fears begin to filter into the marketplace.
As you pack up the car for your Fourth of July road trip, how much you pay at the pump can have a direct correlation on your investments. It's not just an aggravation that it costs more for gas. It's a warning signal that change is brewing. Higher prices are on the way. The stock market bears are growling in their caves. Inflation is not good for stocks either.
The higher gas price you pay at the pump will have repercussions through the economy and spillover impact onto the stock market. Buying physical gold is a proven method to protect your purchasing power against inflation, rising consumer prices and a bear market in stocks. Invest now. Buy online or give us a call at 1-800-880-4653.
Have a happy and safe Fourth of July!