Geo-Political Tensions, Inflation Trigger 2022 Gold Rush
Posted on
— Leave a comment
Gold climbed above the $1,900 an ounce level on Monday, hitting a fresh 8-month high. Investors are chasing the gold market higher, yet analysts say it's not too late to get into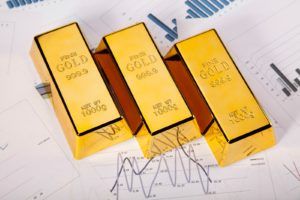 this move.
Investors have long turned to gold for protection against inflation, which has erupted to a whopping 40-year high. Yet, gold also acts as a safe-haven asset and offer stability, wealth preservation in times of geopolitical stress. As the Russian-Ukraine military tensions hit a boiling point, investors are seeking safety in gold.
Concerns that an outbreak of war between Russia and Ukraine could send risky assets like stocks tumbling lower has increased demand for gold, which is prized for its stability during times of crisis. If Russia invades Ukraine, crude oil prices are expected to move higher amid Russian supply disruptions adding to current inflation woes.
Investors have rushed firmly into gold in recent weeks buying the late January price dip at $1,792.60 an ounce. Since then? Gold jumped 6.27% higher in less than a month.
Worried you missed the move? Don't be.
"We never like to be late to the trade, but this might be one of those times when it makes sense to chase it. The precious metal, despite the move, is still trading below its spring 2021 high of $1,909.90 and could be ready to break out," said a Feb. 19 Barron's article.
"Investors are looking for a geopolitical hedge," Matt Miskin, co-chief investment strategist at John Hancock Investment Management told the Wall Street Journal on Feb. 20. "The stars are aligning in essence for a gold breakout." If the Russian-Ukraine situation worsens, it could be the trigger to push gold to a new all-time record high, Miskin said. Gold scored its all-time high at $2,051.50 in August 2020.
A February BofA Global Research report agrees. "It's time to buy more gold especially if it breaks 1860/1880 as new all-time highs would follow," the report said.  Gold has already pushed through $1,880 an ounce, recently trading over $1,900. The BofA Global Research report pointed to new all-time highs at $2,175 an ounce.
Gold is indeed on the move and momentum is building fast. While gold is priced and sold in U.S. dollars on the global market, analysts like to compare gold to other currencies to spotlight trends – and the trends there point higher too. Consider this: Gold hit a new all-time high last week, priced in Japanese Yen. Gold also climbed to fresh 52-week highs versus both Euro and Australian Dollar.
It's not too late to get in on the 2022 Gold Rush, if you act soon.
Want to read more? Subscribe to the Blanchard Newsletter and get our tales from the vault, our favorite stories from around the world and the latest tangible assets news delivered to your inbox weekly.