Global Bar and Coin Demand Surged In Fourth Quarter
Posted on
— Leave a comment
The World Gold Council released its full-year 2016 Demand Trends report last week and the findings revealed strong global investment demand for gold. Here are some key findings of the report.
Investment demand for gold around the world surged by 70%, hitting its highest level since 2012, the World Gold Council said. When gold prices fell in the October and November it triggered huge bar and coin demand for the fourth quarter – its highest quarterly level of purchases since the second quarter 2013.
Chinese Remain Eager Buyers
Historically, Chinese and Indian consumers are some of the world's largest physical gold buyers. For centuries, individuals in these countries turned to gold as a method to preserve, save and build wealth. As the middle classes in those two emerging market powerhouses continue to grow –gold demand continues to rise.
The fourth quarter 2016 ushered in a gangbuster conclusion to the year. Fourth quarter gold demand in China skyrocketed by 86% on a year-over-year level, which propelled annual demand to 284.6 tonnes, its highest level since 2013, the World Gold Council said. (See Figure 1 below, source: World Gold Council.)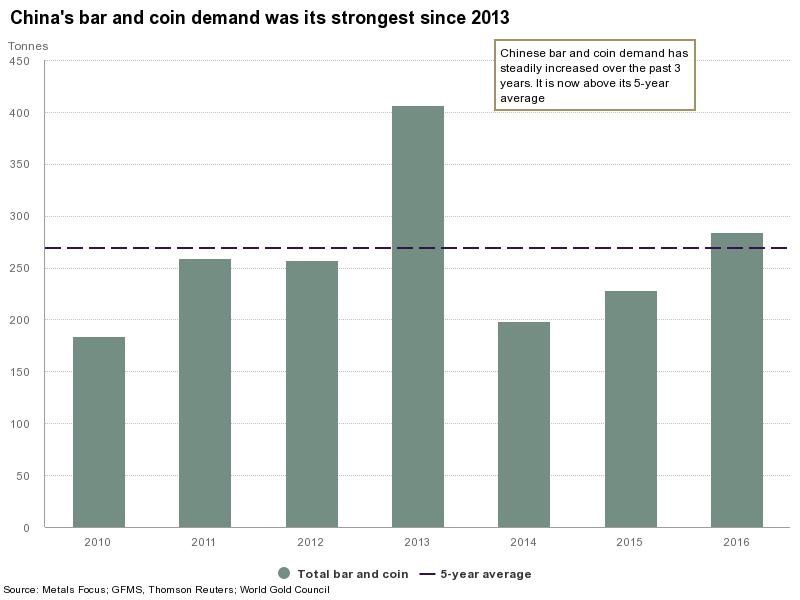 4 key factors supported strong Chinese buying in the fourth quarter:
Chinese investors rushed to buy as gold prices fell in the fourth quarter. The weaker prices were seen as a bargain and buying opportunity.
Emerging fears of a property bubble in cities across China stimulated demand for physical gold ownership.
The depreciation of the Chinese currency – versus the U.S. dollar – triggered a run in physical gold buying, especially among high-net worth individuals who were eager to preserve their purchasing power.
Seasonal buying ahead of the Chinese Lunar New Year on Jan. 28 stimulated fresh physical gold purchases.
Other notable developments in 2016?
U.S. Demand Hit Its Highest Level Since 2010, Family Offices Buy Gold
U.S demand climbed to 93.2 tonnes in 2016, its highest level since 2010, the World Gold Council said. "The atmosphere of uncertainty created by global monetary policies and shifting expectations for US interest rate rises supported demand in H1. Demand in Q4 was boosted by investors who took advantage of the sharp price dip following Trump's November victory. This was coupled with a healthy degree of interest from family offices motivated by the perceived threat of inflation," the World Gold Council report said.
Family offices represent savvy high net worth individuals. This group has shown an increasing level of appetite for physical gold and tangible asset diversification in recent months and years.
Gold and other physical metals have proven portfolio diversification benefits. Blanchard and Company has been advising individuals for over 40 years on how to protect their purchasing power and grow their wealth through physical bullion and rare coin investments. Contact Blanchard and Company at 1-800-880-4653.