Gold Bullion or Rare Coins: Which Is Right For You?
Posted on
— Leave a comment
People gravitate toward gold and rare coin investing and collecting for many reasons. Maybe your father or grandfather collected coins. Or, maybe you are concerned about having too much of your retirement assets invested in the stock market.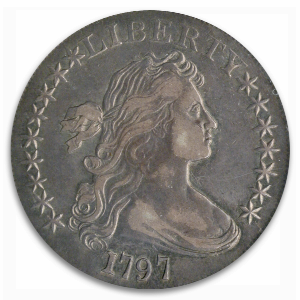 No matter what sparked your interest – the numbers back it up. Investing in gold bullion and rare numismatics is a smart portfolio diversification play.
Which is right for you? We break it down here.
Gold Bullion: A Conservative Investment
No matter who you are, how much or how little money you have, gold bullion is smart investment for you. This is a conservative investment with the greatest short-term growth potential.
We believe that gold and silver bullion in physical form is an appropriate asset for a small portion of any properly diversified investment portfolio. How much? Anywhere from 5% to 25% of your total assets could be appropriate for you based on your risk tolerance level.
Hint: the lower your risk tolerance level is (ie. if you don't want to suffer big swings in your portfolio due to declines in the stock market – increase your exposure to gold coins).
Getting Started
Investing in physical gold is very easy, and any investor can do it and should do it. There are different weights of gold available, so investors can buy coins that are as little as 1/10 of an ounce up to the more standard one ounce coins, in addition to larger bars for investors making a more sizeable investment.
Physical gold is the best way for investors to have long-term exposure to gold because they own the actual commodity – not a paper contract or proxy.
If you are new to gold coin or rare coin investing, start with bullion. Or, increase your exposure to physical gold. You can even save for retirement with physical gold through a self-directed IRA.
Once you've built up a comfortable portion of your assets in gold, it's time to consider rare coins.
Rare Numismatics: An Aggressive Investment
Investing in rare coins, also known as numismatics, has historically produced the highest long-term investor returns. Very limited supply means the price of a rare coin can soar higher at any time.
If you are familiar with stock market sectors, think of gold bullion like utilities or consumer staples. These are dependable investments that create value. Rare coins are like "growth" stocks. Growth companies can see their stock price double or even triple in the course of a year.
Due to the limited supply (the U.S. Mint will never again be able to produce a pre-1933 rare coin, the prices of numismatics tend to appreciate swiftly during periods of crises and also during down markets in stocks and inflationary periods.
Many rare coin investors started out in the sector as a hobby, intrigued by the rich history, beauty and rarity of these historic coins.  Soon after, many realized their hobby was a rich source of investment potential as well.
No matter whether you are an investor or a collector, it pays to choose rare coins with a collector's mentality. That means choose the rarest coin you can afford to buy, in the best condition available. If you can start building "sets" of coins, you could increase the value of your collection to the point where the sum is greater than if the coins were sold off piecemeal.
Are numismatics right for you? This investment requires a longer-term horizon, with a minimum hold time of at least two years.
Do you have capital that you can tie up for at least two years?
Do you have risk appetite for potentially huge price gains?
Are you willing to identify and choose rare coins that will be sought after by collectors in the years ahead to ensure continued value?
Do you simply love old coins and want to own a piece of history?
If you answered yes to any of these questions then investing in rare coins could be a smart choice for you.
The Bottom Line
Investing in gold bullion makes smart financial sense. Investing in rare coins can be a great longer-term investment. But, numismatics also opens the door history. You can own a rare coin that may have been circulated during the historic, early building-block years of our nation, during the exciting years of the California Gold Rush or the challenging years of the Great Depression. And, rare coins historically have outperformed gold bullion during inflationary periods.
Inflation has been low in recent years. But, Federal Reserve officials recently warned that inflation is rising.  If you have been meaning to add gold bullion or rare coins to your portfolio, act now before prices climb higher. Call Blanchard at 1-800-880-4653 to learn what's moving markets today and how can you profit from tangible assets now and in the years ahead.