Gold Climbs to 2-Week High as Middle East Conflict Escalates
Posted on
— Leave a comment
Gold climbed to a two-week high after military conflict and violence escalated between Israel and the Palestinian group Hamas. Investors turned to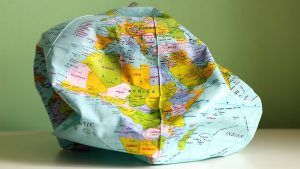 gold as the heightened geopolitical unrest increased the precious metal's safe–haven appeal. Throughout history, during war and military conflict, gold has been used as a safe store of value.
Gold jumped from a low of $1,822.70 early in October to as high as $1,873 mid-week. If the Middle East violence continues to escalate, Wall Street strategists point to $1,900 as the next quick upside target for gold to hit. How could the Middle East conflict impact the economy and markets?
Oil Prices: Another Inflation Spike?
If the Middle East conflict widens and begins to impact oil production in the region, the price of crude oil could trade higher for longer. As we saw with the Russia-Ukraine war, the impact of higher energy prices can be severe, impact inflation, and slow the economy, in addition to causing pain to consumer's pocketbooks.
Interest Rates
As investors begin to price in expectations that the Middle East conflict will put the brakes on the U.S. and global economy, the odds of a Federal Reserve interest rate hike in November are falling. Only 8% of traders now expect the Fed to hike rates at its November 1st meeting, according to the CME Fedwatch tool.
2024 Presidential Elections Around the Globe
We will see presidential elections in many key countries around the globe in 2024. Of course, we have a presidential contest here in America in 2024. But, beyond our borders, Russia's President Vladimir Putin will face a presidential election in 2024. Also, Taiwan faces a key presidential election vote next year, which could have implications for China which claims the island democracy as its own territory.
Elsewhere, many African countries will also hold elections in 2024. Africa is increasingly becoming a geopolitical hotspot. We've seen several military coups there recently. There are also strong China-African relations as many nations there signed on for China's Belt and Road Initiative, which could increasingly shine a global spotlight on that region.
Turbulence Ahead
The recent surge in violence in the Middle East adds to an already complex and volatile global geopolitical situation. The Russia/Ukraine war is still consequential, U.S.-China tensions remain high and the world is facing a spate of critical elections next year. We are heading into one of the most unstable and turbulent times in the post-World War II era. Gold has served as a safe-haven investment and store of value for thousands of years. In today's era of increasingly volatile and often unstable governments, it's worth a look at your portfolio to see if you could benefit from an increased allocation to gold. The price of gold is going up fast—so the quicker you make your moves—the better investment you can make for the long-term.
Want to read more? Subscribe to the Blanchard Newsletter and get our tales from the vault, our favorite stories from around the world, and the latest tangible assets news delivered to your inbox weekly.